Women Made Up a Larger Fraction of Top Painters 200 Years Ago
Search Text
Case Sensitive
Exact Words
Include Comments
Pat Lipsky writes in The Awl:
So I decided to check out the historical perspective: how had women painters fared in the past? I might have been smug about what would turn up—that although it'd been tough for women in the 20th century and recently, we'd done much better than our sisters from the Middle Ages through the early nineteenth century. In fact, I discovered the opposite: the percentage of women exhibiting their work was higher after the French Revolution in Paris than it is in New York now. Despite the bra burnings, Gloria Steinem, the Gorilla Girls, and ongoing feminist rhetoric. From the 17th to the 19th century, Salons in France were official art exhibitions controlled by the government-run Academy of Painting and Sculpture. Here's the breakdown of women to men showing their work: In the Salon of 1801, 192 painters exhibited, of those 28 or 14.6 % were women. In the salon of 1810, 390 painters exhibited, of those 70, or 17.9%, were women, and in the Salon of 1822, 475 painters exhibited, of whom 67, or 14%, were women.
And the French Revolution / Napoleonic Era probably militarized and masculinized tastes to the detriment of women artists. That was the observation of Elisabeth Vigee-Lebrun, who had been Queen Marie Antoinette's court portraitist, but had to flee into exile with the coming of Revolution. (You can hear the militarization of tastes by comparing Mozart [d. 1791] to Beethoven.)
Now let's look at the present. In "Shoes," I mentioned the reopening of MoMA in 2004. Of 1400 objects exhibited in the museum, 16—that is to say about 1%—came from female artists. Today, at three super-prestigious New York galleries, I found three women out of 20 artists mentioned on the official roster of Sperone Westwater—that is 15%. (All shown, incidentally, with serious black and white photographs next to their names, making it difficult to tell what sex they are.) At Gagosian, among the 39 artists listed as the gallery's inner core, three are women: 7%. The third gallery, Pace, specifies 90 artists, seven of whom are women; that is to say 7.78%. So, compared with Paris in 1820 the percentage of women in New York showing in 2015 is down drastically. Plus ça change, plus c'est la même chose.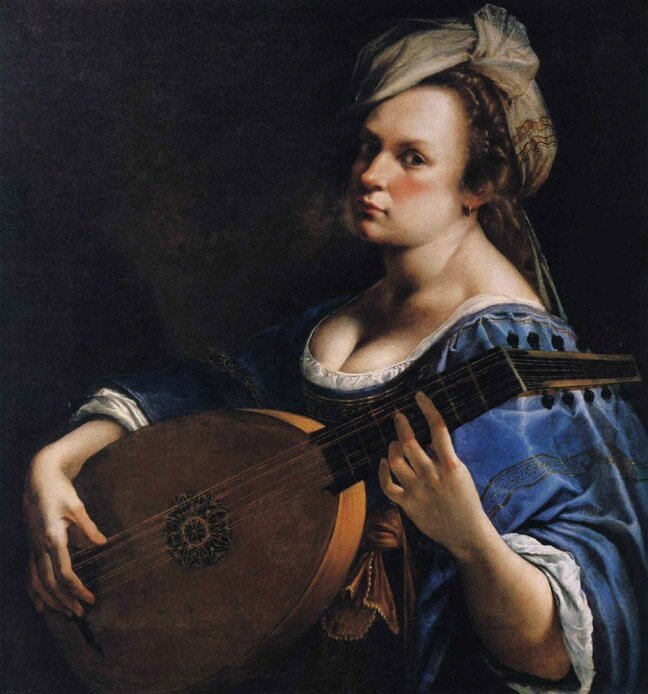 Commenter DavidB replies:
The reputation of women painters from historical times tends to follow a similar trajectory. Assuming they are any good at all, then during their own lifetime they have a rarity value and are wildly overpraised in comparison to male artists of similar talent. Artemisia Ghentileschi, Mary Beale, Rosalba Cariera, Angelica Kauffman and Rosa Bonheur are examples. (I haven't checked spellings.) When Artemisia G came to England as part of a triumphal European tour, King Charles himself came to meet her at the dock. Then after they die, like most painters who are not on the level of a Titian or a Rubens, they fall out of fashion, and their memory fades. Then in the late 20th century the feminism industry digs them up again and their reputation is hyped out of all proportion. It will be interesting to see what happens to the reputation of such female art 'giants' of the 20th century as Gwen John, Frieda Kahlo and Georgia O'Keefe. Will it follow the same pattern, or will feminism keep their boat forever afloat?
I have a quasi-quantitative theory that somebody might want to try to model.
One major cause of an artist's fame is influencing famous followers. For example, if you are walking through a rich art museum's late 19th century room, it's pretty easy to get why there are a lot of paintings by Monet or Van Gogh in the museum. But then you come to a bunch of Cezannes that clearly the museum is very proud to own and … well … the colors are nice … but aren't they're kind of … awkward?
But that's not the point, the point is that a vast number of subsequent famous painters were influenced by Cezanne: Picasso, Matisse, etc. Without Cezanne, the subsequent narrative of art wouldn't make much sense. Heck, famous writers, like Hemingway, were influenced by Cezanne. If you want to tell the story of 20th Century high culture as a cause-and-effect chain of influences, Cezanne is probably going to show up near the beginning.
My impression is that Cezanne was very much a guy painter's guy painter. Don't ask me why. Like I said, I don't get Cezanne.
Now, let's make up two pseudo-quantitative measures: first, let's say that artists differ in appeal between the sexes based on subject matter and (more imponderably) style. For example, American impressionist Mary Cassatt's subject matter was usually pictures of mothers taking care of their small children. My impression of Cassatt is that she was really good, but, to be honest, my focus wanders pretty quickly by about the fourth Cassatt painting I look at. So Cezanne is more likely to have male followers and Cassatt is more likely to have female followers, and so forth.
Second, assume that male followers are five or ten times as likely to become famous themselves as female followers.
Put them together and it would suggest that a female artist's fame is likely to fade out faster because her followers' followers are considerably less likely to be famous than a male artist's.
Does this make any sense?
Follow @steve_sailer