What if Pygmies Are a Different Species? That Might be Good for the Pygmies.
Search Text
Case Sensitive
Exact Words
Include Comments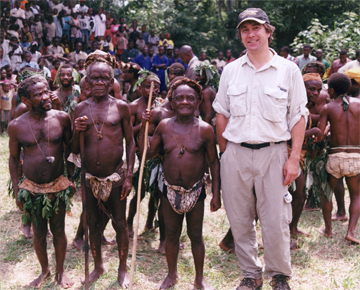 In his 1871 book The Descent of Man, Charles Darwin considered at length whether the races of man were best thought of as separate species or as subspecies, eventually deciding upon the latter, which seems reasonable.
Of course, we don't have a foolproof definition of species. Indeed, much of the incentives for biologists and paleoanthropologists are toward a proliferation of claimed species. If you declare you've discovered a rare species you've named, say, the California bugcatcher which is a different color than the common Baja bugcatcher, you've got something to put on your C.V. and you can get hired by golf course developers as a consultant in dealing with the Endangered Species Act.
Similarly, paleoanthropologists long liked to declare that whatever bone they had dug up was of a heretofore unknown species of hominin.
On the other hand, it was considered extremely bad form to declare existing human groups to be kind of a different species.
Lately, however, things have gotten more complicated as it turns out that a lot of modern people have some ancestry from Neanderthals (traditionally considered a separate species) but sub-Saharan Africans don't.
Greg Cochran points out that recent genomic data suggests that maybe there is a still surviving cousin species of us anatomically modern humans:
… using the slow rate, the split time between Pygmies and Bantu is ~300k years ago – long before any archaeological sign of behavioral modernity (however you define it) and well before the first known fossils of AMH [anatomically modern humans] (although that shouldn't bother anyone, considering the raggedness of the fossil record).

Logically, this means that Pygmies aren't really modern humans. Or, perhaps, they're the most divergent of all modern humans.
Obviously, this is a fairly metaphysical question. But it could have interesting political implications for the poor Pygmies.
It has usually been assumed that it would be terrible if anybody ever noticed that some group wasn't exactly the same species as everybody else. They'd be The Other.
But maybe in this Celebrate Diversity era, it would now be good for the Pygmies to be declared an endangered species.
As far as I can tell, Pygmies get abused something awful in the Congo. For example, from The Smithsonian in 2008:
A correspondent who chronicled their lives in central African rain forests returns a decade later and is shocked by what he finds
But nobody much cares what happens to the Pygmies because while they're being enslaved and maltreated, they're being enslaved and maltreated by other blacks. It's like Black Lives Matter agitation causing the black-on-black homicide totals to jump by hundreds of incremental dead black people post-Ferguson: nice white people don't care much about what blacks do to other blacks.
But if Pygmies could become scientifically recognized as The Other, we'd perhaps be more likely to finally care about what is being done to them.
Follow @steve_sailer