What Donald Trump Is Up to
Search Text
Case Sensitive
Exact Words
Include Comments
… in Scotland, at least, is rebuilding Royal Turnberry (or as he modestly has renamed it, Trump Turnberry), which has been part of the British Open rota since Tom Watson beat Jack Nicklaus in the "Duel in the Sun" in 1977, to actually live up to its nickname of "the Pebble Beach of Scotland." Reconstruction will start shortly after this week's Women's British Open at Trump Turnberry. (Although the men's tour in the U.S. has been cutting ties with Trump over his unspeakable insults of illegal aliens and John McCain, it would be sexist to call off the Women's British Open.)
While the men's Open is always played on linksland near the sea, most of the classic courses don't even offer even an ocean view, much less bring the coastline into play. Turnberry, with its rocky coastline, has been the exception.
Still, even Turnberry's ocean holes were uninspired compared to the greats of the Monterey Peninsula in northern central California. So, Trump's Scottish golf architects, Mackenzie and Ebert, have come up with a plan to exploit the spectacular site much more fully, turning 9 through 11 into ocean cliff holes almost as impressive as 15-17 at Cypress Point.
While Trump's early ventures into golf course architecture tended to involve building giant artificial waterfalls, he's been getting better at using his sites. Analogously, when Trump built a 90 story hotel on the north bank of the Chicago River, he put the main restaurant not at the top, but on the 16th floor. Why? Because the view from supertall buildings is more aerial than elegant. In contrast, the sensational 1920s Art Deco skyscrapers lining the Chicago River top out at 15 to 30 stories, so dining at eye level with their finials is a glorious experience.
On the other hand, there are reasons why Scottish courses aren't as exposed to the ocean as the best California courses, such as wind and salt spray. So, we'll see if Trump is over-optimistic.
Amusingly, since the famous lighthouse between the 9th and 10th holes at Turnberry is now fully automated, Trump's team came up with the idea of tearing down the current hut for snacks near the 10th tee and making the lighthouse itself into what it will surely be the world's most famous halfway house for having a wee dram before braving the rigors of the back nine.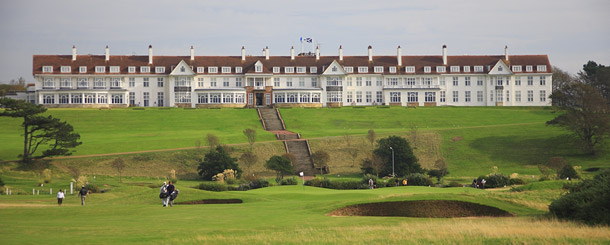 And besides sprucing up the famous old red and white hotel on the hill above the golf course, Trump will be renting out the second floor of the lighthouse as a suite for golf-crazed zillionaires, such as, to pick a name at random from the ranks of links lovers, Mr. Hillary Clinton himself.
Bill Clinton is infatuated with seaside golf in the British Isles. There are, at last count, two Bill Clinton statues in the world. One is in Pristina, Kosovo, and the other is in downtown Ballybunion, Ireland. Clinton has good taste in golf courses. I've been a Ballybunion lifetime member since 1987, although, unlike Bill, I haven't been back since 1994.
That the buddies Trump and Clinton are very much on the same page over golf may have something to do with why Bill Clinton has still not resigned his membership at his home club, Trump National – Westchester.
Follow @steve_sailer