Washington Post: Ex-Men, Such as (To Pick a Random Example) ME, Are Magic
Search Text
Case Sensitive
Exact Words
Include Comments
From the Washington Post opinion section:
Why can't J.K. Rowling accept transgender people like me?

Transgender people embody the spirit of her magical world better than anyone

By Charlotte Clymer
Charlotte Clymer, a transgender woman and U.S. Army veteran, is a press secretary at the Human Rights Campaign. She lives in Washington, D.C.
Dec. 21, 2019 at 10:12 a.m. PST

In the magical world of Harry Potter, the justice-minded and rebellious adolescent characters drink something called "Polyjuice Potion" to temporarily take on the general appearance of other people, even those of entirely different anatomies and gender expressions. As a teenager, I remember reading this and thinking, "Oh God, I wish it were that easy."

At the time, I was very much in the closet as a transgender girl with scarcely any vocabulary — not even the now familiar medicalizing term "gender dysphoria" — to explain to the adults in my life how I was in pain, and the world J.K. Rowling created offered escape.

It wasn't the genre elements that appealed to me but the central message of courage in the face of evil and authenticity in the midst of urged conformity. Woven throughout the narrative is an insistence on love and community and integrity and inclusion, which is why it has broken my heart in recent years to see Rowling's inexplicable replacement of justice-minded imagination with a bigotry-driven rejection of science and reality.

… In her tweet, Rowling effectively dismissed all of this, suggesting that Forstater was being fired for "stating that sex is real," a common transphobic assertion that has been dismissed by medical experts and other scientists. …

Like many other trans folks, I had caught glimpses of much of this, but Burns's precise summarization was a punch to the gut. …

Waking up Thursday morning to Rowling's unequivocal defense of Forstater was searing. I felt foolish and betrayed. I felt guilty for not affirming my siblings in the trans and non-binary community who had the courage to speak out against her history with conviction. I thought of the numerous conversations I had navigated with other trans and non-binary people on Rowling's history, nodding in agreement that, yes, she had been extremely problematic and hurtful and certainly engaged in casual transphobia, but I demurred at suggestions she was consciously bigoted. …

After Rowling turned down an offer from the LGBTQ media organization GLAAD to have an off-the-record conversation with trans people that could potentially close this gap in understanding, I was left realizing that transgender people embody the magical world of Harry Potter better than almost anyone. If the root of Rowling's books is the constant miracle of overcoming considerable odds with love and courage to negotiate hatred, trans people, who leave our homes every day into a world full of discrimination and violence against our bodies and souls, are the closest thing this world has to magic.
Here's Miss Magic transplaining to a girl that the saying "sex is real" is a common transphobic assertion that has been dismissed by medical experts and other scientists: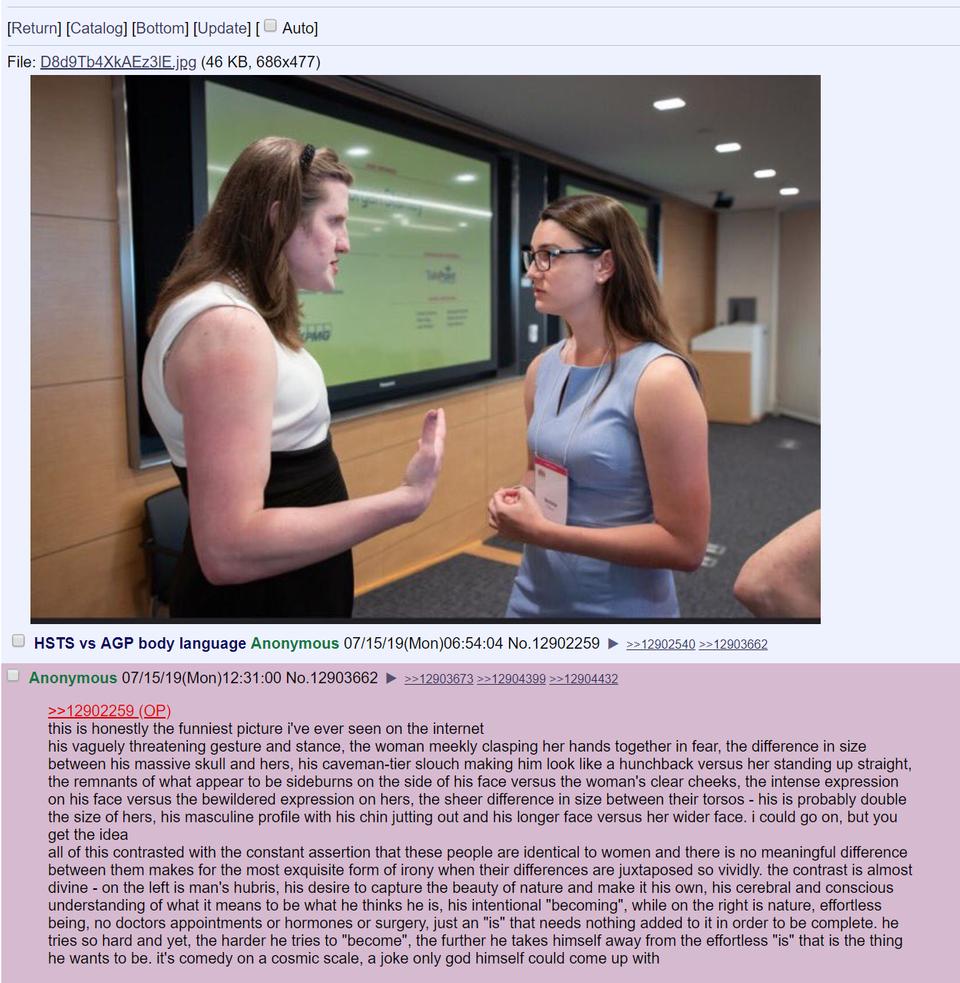 Follow @steve_sailer