UK Exit Poll Demographics
Search Text
Case Sensitive
Exact Words
Include Comments
Has anybody seen an exit poll from the UK general election showing demographic splits like age, income, and ethnicity?
In the comments, Anatoly Karlin points out the Lord Ashcroft Poll, a post-election survey with a sample size of 14k (Tories blue, Labour red, LibDems yellow):
The age gap was immense, with Tories getting 59% of those over 65 and only 18% of those under 25.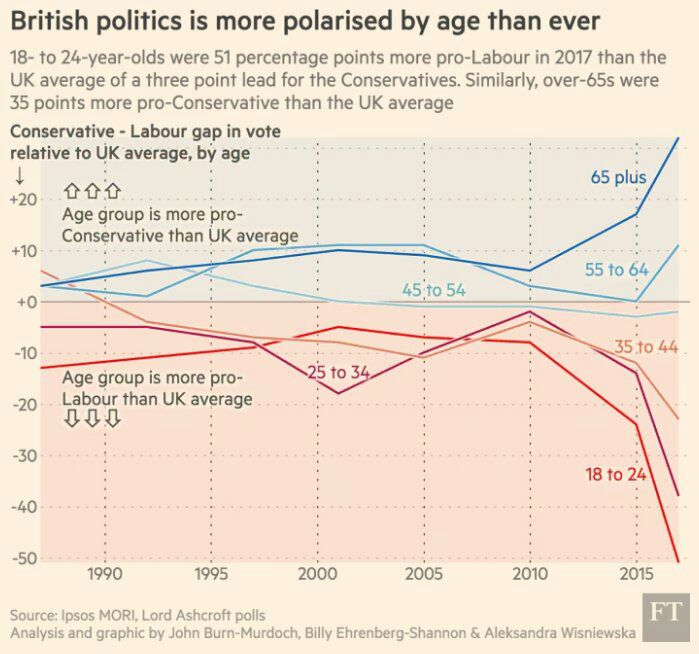 The class gap was not terribly large for Torys or Socialists, but it was large for LibDems.
Apparently, there were no questions about ethnicity, religion, income, or marital status.
Update: Commenter Lot points out:
The ethnic/religion breakdown of the Ashcroft poll starts on page 141 and 154.

"Who would be a better PM?"

Here's the percentage choosing May by group (overall 57.6%)

Jewish 75.5%
Christian 69.7%
Chinese 66.0%
Whites 59.3%
Buddhist 50.0%
Hindu 49.3%
No Religion 43.9%
Indian 37.3%
Mixed Race 33.3%
Sikh 28.6%
Black 19.9%
Muslim 15.9%
Pakistani 11.0%
Bangladeshi 8.7%
The Brexit Gap wasn't huge:
… just over two thirds (68%) of those who voted Conservative said they had voted Leave in the referendum. Just under two thirds (64%) of those who voted Labour said they had voted to remain in the EU, as did nearly eight in ten Liberal Democrats.
The Lib-Dems are the yuppie party that wins seats in places like West Oxford, where I went on a marketing research business trip in the 1990s. It's a big place for foreign firms to have their UK offices.
Ashford reports:
The survey found that 82% of those who voted Conservative in 2015 did so again yesterday, with one in ten switching to Labour and one in twenty going to the Lib Dems. Meanwhile, 83% of 2015 Labour voters stayed with their party, with only 9% going to the Conservatives. Half of those who voted Lib Dem last time round did so again this time, as did eight in ten SNP voters. Just over half (57%) of UKIP voters said they had switched to the Tories; fewer than one in five (19%) said they had stayed with their 2015 parties.
The Tories picked up a big chunk of 2015 voters for UKIP, who have pretty much gone out of business since winning the Brexit referendum last year, but not quite a big enough chunk.
Six in ten of those who said they had voted Leave in the EU referendum backed the Conservatives in the general election; a quarter of leavers voted Labour. Only a quarter of Remain voters voted Conservative; just over half (51%) voted Labour, and a quarter of remainers voted Liberal Democrat. …

Only 8% of Labour voters named Brexit as the most important issue in their decision, compared to 48% of those who voted Conservative.
Perhaps because Prime Minister May hadn't been for Leave in the Brexit referendum last year, while Labour leader Corbyn hadn't campaigned hard for Remain last year, had been anti-EU at times in the past, and endorsed a compromise "soft Brexit" in this campaign.
Corbyn seems to have finessed and downplayed the Brexit issue in this campaign about as well as possible. This adept performance is kind of surprising to casual observers like myself because he had gotten very bad press both in Britain and America, perhaps because he was seen as anti-Israel. For example, the New York Times' write-up on the election results included this snide comment by reporters Steven Erlanger and Stephen Castle:
That meant Labour-held seats seemed ripe for the picking, especially since northerners were not enamored of Mr. Corbyn, 68, a far-left urbanite. He seemed weak on defense and security, shaky on economic management and passionate about places like Venezuela and Nicaragua, and had once had strong sympathies for the Irish Republican Army and liked to make jam.
From the Jerusalem Post on May 31, 2017:
LONDON – Only 13% of British Jews intend to vote for Labour in the June 8 election, polling by The Jewish Chronicle and research agency Survation revealed.

In contrast, 77% intend to vote for the Conservatives. The Liberal Democrats polled at 7%, while 2% said they would vote for parties outside the main three.

The near monolithic support for the Conservative Party among British Jewry comes at the tail end of a year-long period that has seen repeated antisemitism controversies in Labour, led by Jeremy Corbyn. …

Of the representative group of 515 British Jews polled last week, when asked to rank the parties on a scale of 1 to 5 if they have an antisemitism problem, those surveyed gave Labour 3.94. In second place was the anti-EU and anti-immigration UK Independence Party with 3.63, with the Liberal Democrats at 2.7 and the Conservatives at 1.96.

… "Even in April 2015, when it appeared Ed Miliband [who is Jewish] was heading for No. 10 and Jeremy Corbyn wasn't a factor in front-line Labour politics, the party was only receiving 22% of the vote in our Jewish polling, with more than two-thirds of respondents planning to vote Conservative."
The Tories won two fairly Jewish constituencies in the London suburbs, Finchley & Golders Green (which Mrs. Thatcher had represented) and Hendon, although Labour closed the gap in this election vs. 2015.
Wikipedia reports:
Politically, Jews in the U.K. tend to lean conservative, as a poll published by the Jewish Chronicle in early 2015 shows. Of British Jews polled, 69% would vote for the Conservative Party, while 22% would vote for the Labour Party. There was little Jewish support for UKIP or the Liberal Democrats, with each polling around 2%. This is in stark contrast to the rest of the voter population, which according to a BBC poll had Conservatives and Labour almost tied at about a third each. Jews have typically been a part of the British middle class, traditional home of the Conservative Party, though the number of Jews in working class communities of London is in decline. The main voting bloc of poorer Jews in Britain now, made up primarily of ultra-Orthodox, votes "en masse" for the Conservatives. Attitudes toward Israel influence the vote of three out of four of British Jews.
In the 19th Century, Jewish MPs were pretty equally divided between Tory and Whig, although the most famous ethnically Jewish MP, Prime Minister Benjamin Disraeli (a Christian convert in religion, but still extremely Jewish in name, looks, and self-presentation), was Conservative.
After WWII, Jewish MPs were overwhelmingly Labour: in 1966, there were 38 Jewish Labour MPs compared to 2 Tory Jews. But Mrs. Thatcher, who had strong ties to the Jewish community (e.g., Keith Joseph was her idea man), raised the popularity of the Tories among Jews. By her last general election in 1987, there were 16 Tory Jewish MPS to 7 Labour and 1 Lib-Dem. These days, quite a few MPs are a little bit Jewish, such as David Cameron and Boris Johnson.
I believe Ed Miliband in 2015 was the first Jewish leader of Labour to contest (and lose) a general election. Michael Howard was the unsuccessful Tory leader in the 2005 election. Before that, Disraeli led the Tories from 1868 to 1881, serving twice as Prime Minister. He was, famously, Queen Victoria's favorite PM.
The differing trajectories of Jewish voters in Britain and the U.S. is curious. Ronald Reagan was roughly as pro-Semitic as Margaret Thatcher, but this did not lead to the kind of historic realignment in America as Thatcher was able to bring about in Britain.
One factor might be that the Jewish community in Britain is relatively smaller than in America. Plus gentile Brits are quite good at journalism jobs. A friend of mine who is a retired Canberra MP and big time lawyer in Melbourne is driven nuts by American theories that Rupert Murdoch must be Jewish because, after all, he is a press baron and gentiles are incapable of managing large media organizations and Rupert's mother's maiden name was Greene and that must be Jewish.
No, my Melbourne friend protests, people of indigenous British descent, such as Lord Beaverbrook (Lord Copper in Waugh's Scoop), have an outstanding record as press lords. And the Greene family was Irish, English, and Scottish. "I know the family, I went to Rupert's mother's funeral when she died at 103," he points out.
Follow @steve_sailer