U.S. Open at Torrey Pines
Search Text
Case Sensitive
Exact Words
Include Comments
Thanks to iSteve commenter and graphic artist Harry Baldwin for this lovely proposal for a masthead.
This is based on Rees Jones' photo of his par 3 third hole at Torrey Pines South across the barranca.
The U.S. Open golf tournament has begun at the Torrey Pines South municipal course just north of La Jolla, CA. Phil Mickelson, winner of the PGA Championship last month at age 50 and a native of San Diego County, opened with a 75, putting him eight strokes off the lead so lightning likely won't strike twice.
Speaking of lightning, the USGA likes west coast venues for their big Father's Day annual event because they don't get delayed by lightning storms like they do in June in the East and Midwest, which makes it hard for the first two rounds before half the 156 entrants are for the weekend to finish during daylight, even during the longest days of the year. (Also, West Coast US Opens finish during prime time on the East Coast, which makes for high ratings.)
But the June Gloom was so thick in San Diego Thursday that the first round was postponed 90 minutes so they still didn't finish by dark.
The two municipal courses at Torrey Pines are built on huge bluffs about 800 feet above the beach — next door is one of the most popular hang-gliding spots in America.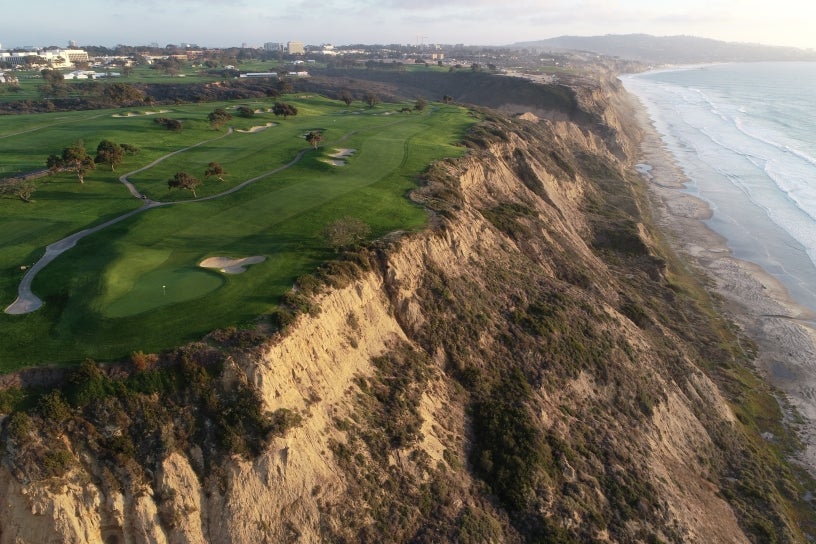 Golfers love playing next to the ocean, although Torrey's headland is so high that you aren't going to hear much of the waves breaking on Black's Beach.
On Torrey Pines South, really only the fourth hole (in the upper left of the satellite view) runs along the ocean cliffs, although other holes tangle with the huge sagebrush-filled canyons.
When I first played Torrey Pines South in the early 1970s, my feeling was that this 1950s design largely wasted the potential of its setting. The architect Bill Bell Jr. basically inherited his position as Southern California's go-to golf course designer from his dad, Bill Bell Sr., who was right hand man to SoCal's golf architecture genius George Thomas, who designed Riviera, Bel-Air, Ojai, and redesigned Los Angeles Country Club (2023 US Open). Bell Jr. was not a genius.
Rees Jones improved it 20 years ago (after which San Diegoan Mickelson has never won at Torrey — he blames Jones' redesign).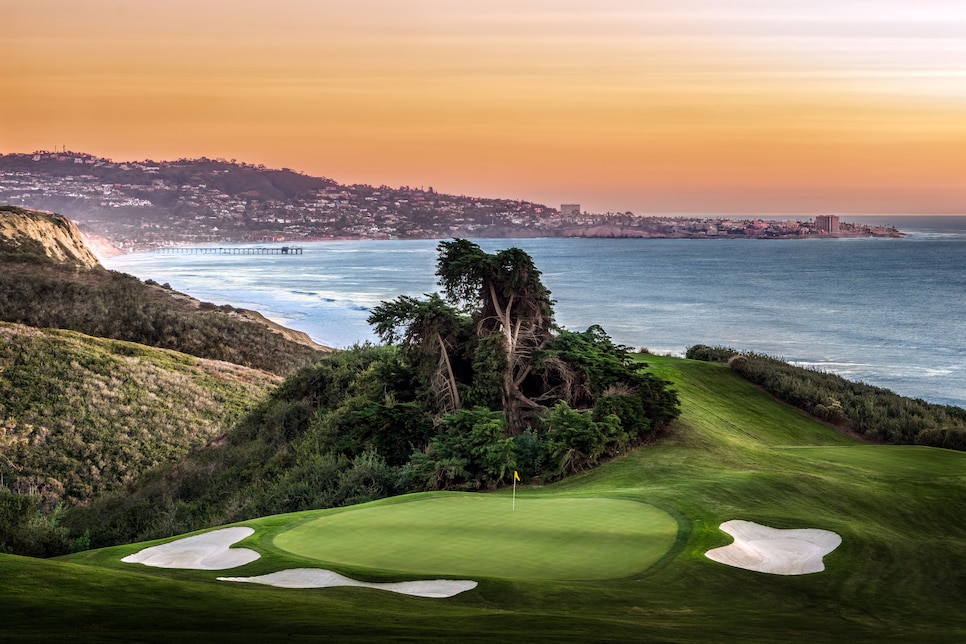 It's now a very hard course with more spectacular shots over or near the barrancas.
But if I were vacationing in San Diego, I'd prefer to play the easier but more scenic Torrey Pines North course.
The par 3 fifteenth on the North is the most memorable hole on the property.
(That reminds me, I birdied it in 1974.)
Here's the back nine at Torrey Pines North.
It used to be the front nine until Tom Weiskopf revamped it recently.
Weiskopf's argument was that the North Course was played 150 rounds per year by pros once per year and 85,000 rounds per year by the public annually, so he built one extremely hard pin position into each green, which sounds smart.
Still, Phil Mickelson wanted to redesign it, but he ran into some stupid bureaucratic California rule that prevented him due to his enthusiasm for the project. NBC News reported in 2015:
Phil Mickelson has reportedly been excluded from further work on the redesign of the North Course at Torrey Pines, three years after he first offered a new vision for the layout that annually co-hosts the Farmers Insurance Open.

According to a San Diego Union-Tribune report, Mickelson is out of the running because of a ruling from the California Fair Political Practices Commission that reads in part, "any person or company that worked on preliminary designs may not participate in the design and/or construction resulting from this Request for Proposal and the ensuing contract."

Mickelson, a native of San Diego, first offered a preliminary plan for the course in February 2012. While his Phil Mickelson Design group expected to submit a formal construction bid to the city of San Diego alongside Landscapes Unlimited, the latter will reportedly now submit its own bid without Mickelson.

"I'm deeply disappointed with this entire process," Mickelson said in a release. "We did a lot of good work, we had overwhelming support from the residents of San Diego on this project and now we're disqualified from bidding on it."

Mickelson's original plans included re-contoured fairways, redesigned greens, an emphasis on introducing more natural grasses and a desire to bring the canyon lines part of the course more into play.
Phil has his phlaws, but he's probably thought harder about how to optimize the Torrey Pines North property over the last 40+ years than anybody else has. Mickleson is a great San Diegoan. While Tiger legally relocated from Orange County to income tax-free Florida on the day he turned pro in 1996, Phil, in contrast, has paid a vast amount of California income tax over the last 30 years because he likes living where he grew up.
So I feel deprived to not see what Mickelson would have done with a golf course he'd play many times growing up. Nothing against Weiskopf, an excellent golfer and course designer, but he is from Ohio.
As for the South course, my only problem is that it's frustrating to play because, while it's wonderful, it's also nowhere near as wonderful as its 99.99th percentile terrain could have allowed.
On the other hand, as I told Rees Jones three years ago, the 2008 U.S. Open that Tiger won in a 19 hole playoff with a broken leg was the most Best Open Ever.
Follow @steve_sailer