Survey: Jews Don't Get as Many Intersectional PoCemon Points as Many Jewish Liberals Might Guess
Search Text
Case Sensitive
Exact Words
Include Comments
The 'privilege hierarchy' as assessed by white liberals, moderates, and conservatives pic.twitter.com/aJ7018mU5n

— Zach Goldberg (@ZachG932) May 9, 2019
So all three political persuasions of whites–liberals, moderates, & conservative– see Jews as being considerably more "privileged" than the average?
Jews (olive green in the graph above) are seen as the most privileged identity by white moderates and white conservatives and as tied for second (with whites and behind only men) by white liberals.
That quite amazing considering that the term "Jewish privilege" is almost completely blockaded from the prestige press. The New York Times has allowed the phrase "Jewish privilege" to appear in its page three times in its history, in 1982, 2010 and last year in a piece about Philip Roth. Note, however, that the question didn't use the word "privilege," it used "advantage."
Is today's incessant media discourse about "privilege" really as good for the Jews as many Jewish media personalities tend to assume? Maybe it would be tactically prudent to tone down the "White Privilege" rhetoric because it leads a lot of people to think about "Jewish Privilege" as well?
Update: nonwhites see a lot of Jewish Privilege too: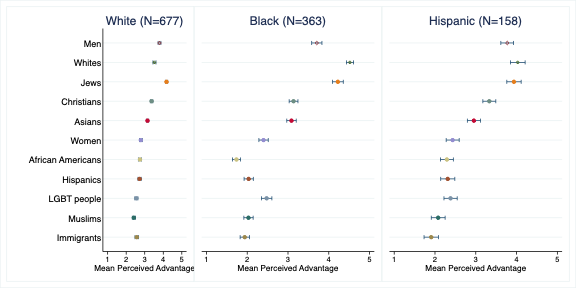 Follow @steve_sailer