Shots Fired at Pro-Trump Caravan in San Fernando Valley
Search Text
Case Sensitive
Exact Words
Include Comments
From the L.A. Times:
Shots reportedly fired at Trump car caravan leads to tense standoff in Woodland Hills

By ALEX WIGGLESWORTH, FRANCINE ORR , RICHARD WINTON, ANGEL JENNINGS, MATTHEW ORMSETH
AUG. 30, 2020 3:24 PM UPDATED 4:15 PM

Tactical teams were trying to draw three men out of an apartment building in Woodland Hills on Sunday after Los Angeles police received reports that one of them may have fired gunshots at a pro-Trump vehicle caravan.

No one was hurt at the rally, and police were still trying determine exactly what happened.

Officer Will Cooper of the Los Angeles Police Department said officials received a report that a man was firing at a caravan as it traveled along Ventura Boulevard near Chalk Hill shortly before 11:30 a.m. The incident was initially described as someone brandishing a firearm and throwing bottles at the vehicles but was later updated to include a report of shots fired, he said. …

A woman who was driving east on Ventura past the procession heard what sounded like gunshots and noticed her tire went flat, Los Angeles police said in a news release. When she inspected it, she found it had been damaged by a projectile, possibly a bullet or a bullet fragment, police said.
Or maybe her tire exploded, although that doesn't happen too often anymore.
Jorge Rodriguez, deputy chief of the LAPD Valley bureau, said the department obtained a photo of man with a rifle on the balcony of an apartment unit. It's unclear what kind of rifle he was holding. …

A helicopter hovered above Tina Johnson's Woodland Hills apartment complex as she went to the pool for a quick swim. …

"It's kind of surreal," Johnson, 23, said. In liberal California, she had "never met a Trump supporter."

But now, here they were, a caravan with Trump flags waving on the back of their pick up truck cruising down Ventura Boulevard.

The sight and the subsequent confrontation seemed like something that might happen in the South but not here.

"We wouldn't have ever imagined it would happen in California," Johnson said.
Here's the first reported photograph of the alleged Los Angeles shooter: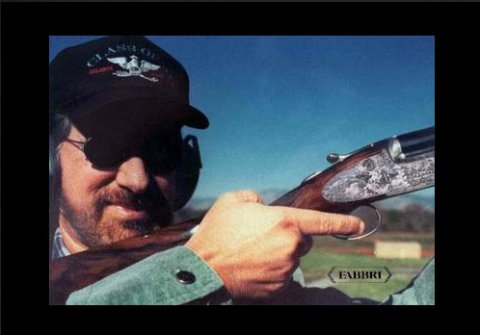 Correction, here's the only known photograph of the alleged Los Angeles shooter:
So, no, Steven Spielberg was (in all probability) not the Los Angeles shooter.
Sam Hyde was.
But, Los Angeles is a lot more heavily armed than outsiders might think.
Follow @steve_sailer