Rob Reiner Makes His Stand Against Whole Foods in the Great Vacant Lot of Malibu
Search Text
Case Sensitive
Exact Words
Include Comments
I write a lot about political battles over real estate development in Malibu, CA, the municipality of only 12,645 people that encompasses 27 miles of coastline west of Los Angeles, because they tend to be hilariously exaggerated versions of struggles played out all across America. And they usually involve celebrities, such as The Edge of U-2, which makes these environmental and zoning wars easier to follow. Plus, I've driven through Malibu a million times to go to the beach, although we'd usually drive further to get to less hostile, less anti-Val beaches.
Having watched the evolution of environmentalism among liberal Democrats in the Los Angeles area over the last 45 years, it's really hard to take seriously the notion that modern liberalism is about Hope and Change and Opportunity and Equality and the Masses. It's a lot more about: We've got a good thing here and we're going to keep it.
For example, movie director and Democratic Party stalwart Rob Reiner, who played Meathead on All In the Family, is currently opposing a Republican politician / developer's plan to build a Whole Foods organic grocery store on part of the giant empty field in the middle of downtown Malibu.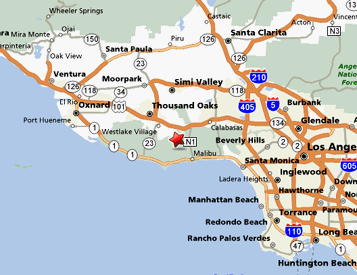 It's not that Rob is against Whole Foods, it's the principle of the thing: the idea that Malibu might change, that more people might come to Malibu, that people from the … San Fernando Valley might not just come to use the beach but would stay.
My entire life there has been a huge patch of dirt right where Pacific Coast Highway and Malibu Canyon Road meet, next to Surfrider Beach and the Malibu Colony where so many stars traditionally live. (The picture above shows the view of Central Malibu from Malibu Canyon Road. The wide grey building in the foreground is the Malibu city hall. Behind it is the Great Vacant Lot of Malibu.)
Now I don't have the sharpest mind for moneymaking opportunities, but even I've occasionally had the thought filter into my mind: "You know, if you built something on this humongous vacant lot on a rare piece of flat land in the heart of Malibu, you could probably charge a lot of money for it." For example, the same property on the Turkish Riviera would likely be covered in ocean-view high rises.
In Southern California, however, very few people have ocean-view properties, especially not second homes. Rob Reiner is one of the strikingly few Los Angelenos who can afford a second home in Malibu.
Lots of people in Los Angeles own a vacation home in the desert near Palm Springs, because that is a big expanse of what was Republican terrain (although Sonny Bono's widow lost the Palm Springs seat in the House to a Latino Democrat in the last election). But Los Angeles is already a desert so the appeal of getting away to an even hotter desert has always eluded me. Getting away to the beach, however, is a great idea, which is why people like Rob Reiner do it, and don't want you to do it.
Of course, I can also see Rob Reiner's point: Malibu is nice just the way it is, and if you are a Malibuite already, why let in new people who will just make your nice place more crowded?
Of course, the United States of America has traditionally been kind of like the Malibu of the world. And it would seem to me that some of Rob Reiner's thinking about Malibu might also apply to our country, but only dangerous extremists like me think analogically.
Here's Reiner on Larry King a few months ago denouncing the Tea Party for not letting Speaker of the House Boehner make a deal with President Obama on immigration.
I would presume that it's never occurred to Reiner that his defense of the borders of his second home's municipality are somewhat like my defense of the border of my country, but if anybody brought it up, he would say that immigration restrictionists have an ugly history of xenophobic violence against outsiders.
But of course Reiner's environmentalism is the adult face of Malibu's notorious tradition of xenophobic violence against the less privileged (like us Valley Guys). From Wikipedia:
Malibu Locals Only (also known as "MLO") is a group of youths local to Malibu, California, who have been associated with several violent attacks along with other criminal activity in the city.[1] Frequently involved with party, bar or beach area fights, the group has maintained a feeling of aversion toward residents of the San Fernando Valley region, as well as other outsiders who find their way into Malibu for recreation or leisure. …

Initially established in the 1960s by a group of Malibu surfers, the group sought to do two things; stop the San Fernando Valley surfers from using their beaches[2][3] (which were at the time, private), and protect students of Malibu who were the minority in High Schools at the time (because Malibu High School had not yet been constructed). … Today, the gang has been responsible for multiple instances of brutality.
From the Los Angeles Times in 1988:
Battles Waged Over Waves : Violence Among Surfers Swells During Summer

July 05, 1988|KENNETH J. GARCIA | Times Staff Writer

On a good summer day, when the southern swells hit the coast, the beaches from Venice to Ventura are among the best surfing spots in the country. These days, they are also among the toughest. …

The outer signs of the surf wars resemble those of Los Angeles' more notorious gang wars: graffiti to mark off turf, "locals" quick to pounce when their boundaries have been crossed and mocking of rivals.

In Malibu, the dreaded "Vals"–surfers from the San Fernando Valley–are singled out for abuse. …

Surfers going to Malibu from the Valley are greeted by a series of spray-painted road signs saying, "No Vals," "Vals Go Home" and "MLO," meaning "Malibu Locals Only." On Morning View Drive near Zuma Beach, one of the busiest in Los Angeles County, the pavement is painted with numerous variations of the "No Vals" theme, including the outline of a man's figure with a gun nearby. The accompanying message: "Vals Die."

"You can always tell the Vals," surfer Randy Thompson said last week, pointing to a group of young surfers near a graffiti-covered wall at Surfrider State Beach. "They end up doing most of their surfing underwater."

This battle in the surf wars has a long tradition.

Legend has it that during the 1960s one surfer tried to block the canyon roads during periods of large wave swells so that "Vals" would not be able to get to the Malibu beaches.
Now, obviously, growing up 27 miles from Malibu is relatively privileged. But that's how everything works: relativistically.
Follow @steve_sailer