My Favorite Joe Biden Photo
Search Text
Case Sensitive
Exact Words
Include Comments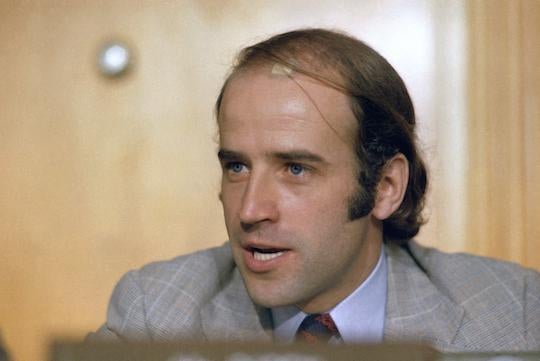 Is that a wire running to an electrode attached to his scalp? Is he prepped for an electroencephalogram? Or did he just slap a Band-Aid on top of one strand of his combover?
This 1976 picture looks like a still from a 1970s paranoid thriller film like The Conversation, Three Days of the Condor, or All the President's Men. Joe would be well-cast as the sleazy lawyer sent by the covert government agency or giant multinational corporation to warn the hero to back off. He looks like a cross between Peter Boyle, John Cazale, and Harry Dean Stanton.
But I can also tell that Joe always sees himself as the hero of his movie, the Jack Nicholson/Dustin Hoffman/Robert Redford character. Heck, in Joe's eyes, Joe is Jefferson Smith in Mr. Smith Goes to Washington.
In general, the long-haired era introduced by The Beatles in 1964 when Joe was already 21 and probably losing interest in pop music was not a good one for Catholic-Americans, at least not compared to the Crosby-Sinatra Era that preceded the Sixties-Seventies.
In Biden's defense, he was a widower with small children at the time. I presume that when he married Dr. Jill in 1977 she started to exercise a salutary influence over his grooming.
Now, with the help of a lot of plastic surgery, Joe's aesthetic is back to that of the cocky high school football star (skinny split end subtype) he was in c. 1960.
Follow @steve_sailer