Search Text
Case Sensitive
Exact Words
Include Comments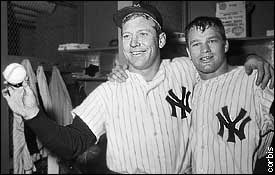 Baseball pitcher Jim Bouton has died at age 80.
He won 39 games for the Mantle-Maris Yankees in 1963-64, plus two World Series games, but burned out his arm.
In 1969 he attempted to come back as a soft-throwing knuckleballer. A knuckleball is thrown with, ideally, zero spin, which causes it to flutter in a random pattern on its way to the plate. Everything about a knuckleball is the opposite of normal good pitching, in which the ball is thrown with as much of a combination of velocity, spin, and accuracy as is possible.
A few pitchers have enjoyed endless careers well into their 40s throwing the knuckleball, such as the Niekro brothers who won a combined 537 games. But it's so contrary to conventional pitching that usually only a few pitchers at a time are ever throwing it.
Bouton wasn't particularly good as a knuckleballer, going 2-3 with a 3.96 ERA in 1969. Yet, to be a knuckleballer is to be a philosopher.
And Bouton was in tune with his innovative time. My impression is that 1969 was the single most innovative year of my lifetime.
Bouton's innovation was to keep a frank diary of his 1969 season and publish it in 1970 as the most hilariously honest book about baseball yet. Ball Four was enormously controversial and then enormously successful, supporting the notion that the 1960s mostly actually happened in the 1970s.
Baseball is a fairly literary sport, but not too many great books have been written by actual players, perhaps because being a bookworm as a boy is bad for the eyesight crucial for hitting. Most of the better books by players have been written by pitchers, with Ball Four as the most famous book ever by a player
Donald Trump, by the way, is an heir to the 1970s baseball attitudes molded by Bouton. His idol and mentor, New York Yankees owner George Steinbrenner, felt that baseball was more fun if every clubhouse feud was aired in the tabloids. This was quite shocking to the previous orthodoxy set by the O'Malleys with the very buttoned-down Los Angeles Dodgers.
One interesting question is whether Bouton could get published fifty years later. Back then Bouton was seen as some sort of hippie George McGovern supporter. Now, most of his literary heirs, such as @Super70sSports, seem like dangerous reactionaries.
Follow @steve_sailer