Jared Diamond on Haiti and Immigration Policy
Search Text
Case Sensitive
Exact Words
Include Comments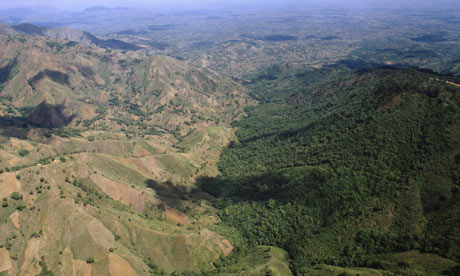 Above is a photo of the Haiti-Dominican Republic border made famous by Jared Diamond, author of the much-celebrated Guns Germs, and Steel.
Haiti is the eroded, deforested wasteland on the left while the Dominican Republic is the verdant forest land on the right.
Why is Haiti stuck with the Tragic Dirt, while Dominican Republic gets all the Magic Dirt?
Diamond wrote a chapter in his bestseller Collapse about why Haiti is so horrible compared to adjoining DR. He later edited a book growing out of the comparison entitled Natural Experiments of History.
Diamond wrote in The Guardian in 2010 about why Haiti is the way it is compared to DR:
A second social and political factor is that the Dominican Republic – with its Spanish-speaking population of predominantly European ancestry – was both more receptive and more ­attractive to European immigrants and investors than was Haiti with its Creole-speaking population composed overwhelmingly of black former slaves. … Hence European immigration and investment were negligible and restricted by the constitution in Haiti after 1804 but eventually became important in the Dominican Republic. Those Dominican immigrants included many middle-class businesspeople and skilled professionals who contributed to the country's development.
Maybe somebody should ask Diamond what he thinks about Trump's views on Haiti and immigration policy.
If you read Jared Diamond very carefully, you can notice he's another West L.A. skeptic of mass immigration, in the vein of Mickey Kaus, Stephen Miller, and Ben Zuckerman.
I wrote about Haiti in 2010 after the horrible earthquake.
Follow @steve_sailer