Jack Merritt and Saskia Jones, RIP
Search Text
Case Sensitive
Exact Words
Include Comments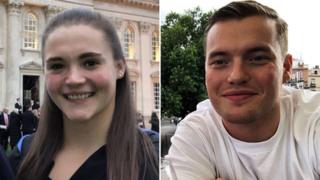 From the New York Times opinion page:
Jack Merritt Died in the London Bridge Attack. Don't Forget What He Stood For.
Remembering a life cut short.

By Emma Goldberg
Ms. Goldberg is a researcher for the editorial board.

Dec. 1, 2019

I remember a morning of unadulterated goodness. I'd come to celebrate graduation at a local men's prison. The inmates had spent the semester studying criminal justice with students from the University of Cambridge as part of a program called Learning Together. The men from the prison dressed up for the occasion, hair slicked back and shirts tucked in.

Jack Merritt, my classmate at Cambridge and a program participant, recited a poem he'd written on forgiveness and rehabilitation. I remember feeling surprised by his words, so unselfconsciously earnest. I'd known him mostly for his dry wit, his boyishly good looks and his reputation as a criminology class clown.

Jack, who was 25 and from Cambridge, was stabbed to death during a terrorist attack near London Bridge on Friday. The attacker, Usman Khan, had been convicted of terrorism offenses in 2012. He was released from prison last year. Just before the attack, Jack was in Fishmongers' Hall, a building adjacent to the bridge, helping to lead a conference on prisoner rehabilitation, an alumni celebration for Learning Together. Mr. Khan, who was attending the conference, began his rampage as a creative writing workshop was wrapping up inside the hall, around 2 p.m.

The injustice of somebody murdered while organizing for criminal justice feels impossibly sharp. Jack was in a room of people, some on day release from prison, discussing possibilities for penal reform.

But the world is full of injustice, and young people denied opportunity. Jack understood that better than most.
The poor bastard's Master's thesis was entitled:
A Critical Analysis of Over-Representation of Black, Asian and Minority Ethnic Males Aged 18-21 in the British Prison System.
The Muslim terrorist's other victim was Saskia Jones of Stratford-Upon-Avon:
Second London Bridge attack victim named as Saskia Jones, 23

Former Cambridge student was killed along with Jack Merritt, 25, in attack on Friday

Hannah Mays and agency

Sun 1 Dec 2019 11.26 EST

The second victim of the London Bridge terror attack has been named by the Metropolitan police as Saskia Jones, 23, a former Cambridge University student from Stratford-upon-Avon.

… Jones was named a day after Jack Merritt, 25, was identified by his father as the other person killed by Usman Khan in his knife attack at Fishmongers' Hall on Friday. They had been attending an event to celebrate the fifth anniversary of Learning Together, a prison-based education project.

… Prof Loraine R Gelsthorpe, the director of the Institute of Criminology at Cambridge, where both victims had studied, paid tribute to them in a statement on Sunday. She said Saskia's "warm disposition and extraordinary intellectual creativity was combined with a strong belief that people who have committed criminal offences should have opportunities for rehabilitation.

"Though she completed her MPhil in criminology in 2018, her determination to make an enduring and positive impact on society in everything she did led her to stay in contact with the Learning Together community. They valued her contributions enormously and were inspired by her determination to push towards the good."
I wonder if any of the Cambridge dons who helped indoctrinate these naive young people feel even a twinge of guilt over their deaths?
Judging from this, probably not:
Professor Loraine Gelsthorpe
Institute of Criminology
Director of the Institute

Professor of Criminology and Criminal Justice, Director of the Centre for Community, Gender and Social Justice; Director of the Cambridge ESRC Doctoral Training Centre; Joint Convenor: CAMMIGRES (Cambridge Migration Research Network)

Fellow of Pembroke College.

Loraine Gelsthorpe is Professor of Criminology & Criminal Justice at the Institute of Criminology, University of Cambridge. And a Fellow and Tutor for Graduate Affairs at Pembroke College. She is also Director of the Institute, Director of Graduate Education for the Institute, and Director of a research centre within also: the Centre for Community, Gender and Social Justice. Beyond this she is Co-convenor of the University wide multi-disciplinary Cambridge Migration Research Network (CAMMIGRES). She also sits on various University Committees including the General Board Education Committee and the Board of Graduate Studies. Loraine has wide interests in the links between criminal justice and social justice, looking at race, gender and social exclusion, women and sentencing, and at the effectiveness of youth and community penalties in particular.
Perhaps it's not a coincidence that our new religion of Diversity, Inclusion, Equity spells DIE.
Follow @steve_sailer