If a Woman Soccer "Star" Protests in an Empty Stadium ...
Search Text
Case Sensitive
Exact Words
Include Comments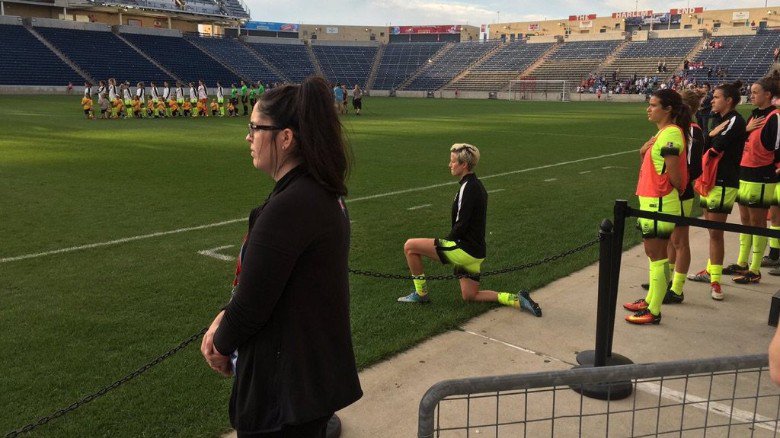 From the New York Times:
Soccer Star Rapinoe Kneels During National Anthem
By THE ASSOCIATED PRESS SEPT. 5, 2016, 12:30 A.M. E.D.T.

CHICAGO — U.S. soccer star Megan Rapinoe knelt during the national anthem Sunday night before the Seattle Reign's game against the Chicago Red Stars "in a little nod" to NFL quarterback Colin Kaepernick.

Kaepernick's refusal to stand for the national anthem to protest racial injustice and minority oppression came to public notice when he remained seated on the bench before a preseason game against Green Bay. On Thursday night in San Diego, he and safety Eric Reid knelt during the anthem before a game against the Chargers.

"It was very intentional," Rapinoe told American Soccer Now after Seattle's 2-2 tie in the National Women's Soccer League game. "It was a little nod to Kaepernick and everything that he's standing for right now. I think it's actually pretty disgusting the way he was treated and the way that a lot of the media has covered it and made it about something that it absolutely isn't. We need to have a more thoughtful, two-sided conversation about racial issues in this country.

"Being a gay American, I know what it means to look at the flag and not have it protect all of your liberties. It was something small that I could do and something that I plan to keep doing in the future and hopefully spark some meaningful conversation around it. It's important to have white people stand in support of people of color on this. We don't need to be the leading voice, of course, but standing in support of them is something that's really powerful."
The irony of course is that nationalism is the only reason anybody cares about women's soccer as a spectator sport. Every four years, Americans go nuts in a frenzy of feminist patriotic chauvinism over the American women's team in the World Cup.
But nobody cares at all about the women's professional league as this picture of a National Women's Soccer League game in America's third biggest city graphically demonstrates. People like to root for men athletes claiming to represent your city or state because it triggers atavistic territorial urges, but women's professional team sports have been repeated failures because nobody sees women as defenders of the home turf.
This only works at the national level where women athletes are considered exemplars of the superiority of the American way of life.
What women soccer players should do instead of trying to create a city-based league is just have the American national team barnstorm against a team of evil foreigners — call it Team Putin. That would make a lot more money than the NWSL.
Follow @steve_sailer