Facebook, Google, Harvard and Stanford vs. NYPD and U.S. Marines
Search Text
Case Sensitive
Exact Words
Include Comments
Political donations to candidates over a certain low amount ($35?) are public record. From Bloomberg:
The Employees Who Gave Most to Trump and Biden
By Jackie Gu
November 2, 2020

… Of the employers included in this analysis, those whose employees tilted the most to Trump were the New York Police Department and the U.S. Marines, with almost 70% of employees who made contributions to one of the two presidential campaigns favoring the incumbent. The employers with the greatest share of Biden donors were Facebook and the University of Washington [I think they meant U. of Colorado], with over 97% of their donors giving to Biden: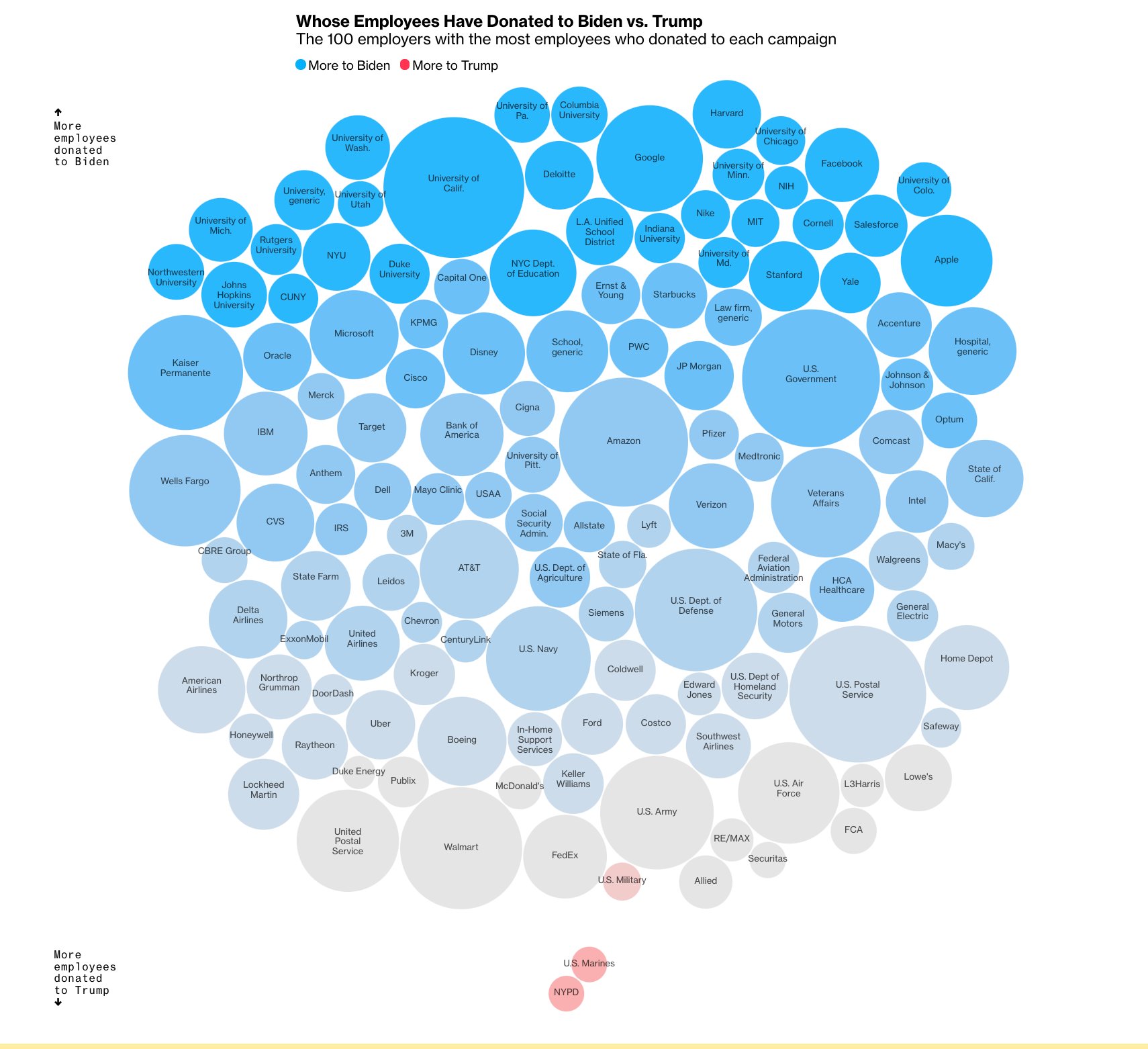 This graph leaves out the vertical scale, but it runs from "over 97%" at the top to "almost 70%" at the bottom: i.e., there is about an order of magnitude more political diversity within the NYPD and US Marines — where more than 30% of employees who donated support Biden — than within Facebook — where about 3% of donors support Trump.
Silicon Valley and the Ivy League are vastly more conformist workplaces than the US Marine Corps.
Evidently, you don't have to be very brave if you are a Marine or a cop to publicly donate to Biden. What is the worst your coworkers are going to do? Razz you about it?
But if you work for Facebook or Harvard, you have to be courageous and nonconformist to donate to Trump, evidently.
Which Harvard professor donated to Trump?
Follow @steve_sailer