Black Woman Cartoonist Boldly Goes Where No New Yorker Cartoon Has Ever Gone Before
Search Text
Case Sensitive
Exact Words
Include Comments
From the Washington Post:
The evolution of New Yorker cartoons sounds potentially interesting but it would require a lot of work on the part of the reporter to do right. For Christmas about 15 years ago I received a massive coffee table book of all New Yorker cartoons of the 20th Century in chronological order. I thought about writing a piece on how New Yorker cartoons changed over the decades thematically, stylistically, and in terms of what types of humor came into and went out of fashion, and also what stayed the same, but never got around to it because it would be a lot of work.
This piece, however, is not it. The reporter takes the much easier path of demographic nose-counting of cartoonists:
By Michael Cavna
Yesterday at 6:00 a.m. EDT

… [Emma] Allen, the humor and cartoon editor for the New Yorker, culls through sketches, separating laugh from chaff, and finds that the coronavirus era has brought odd professional challenges beyond simply working from home.

"Masks have not been good for gag cartoons," Allen says wryly, noting that if a character dons a mouth covering, you can't tell who's speaking — be it a person or a pooch or a ficus. That can be a problem for the magazine's typically caption-dependent cartoons. On the other hand: "It felt socially irresponsible to have people talking to each other without masks."
"Socially responsible" is my highest priority in cartoons too.
The tiniest line and the big picture. That is her purview since becoming only the fourth cartoon editor in the magazine's near-century-long history — and the first woman to ascend to that lofty title — after succeeding Bob Mankoff four years ago.
Here's Mankoff's most popular, if socially irresponsible, cartoon: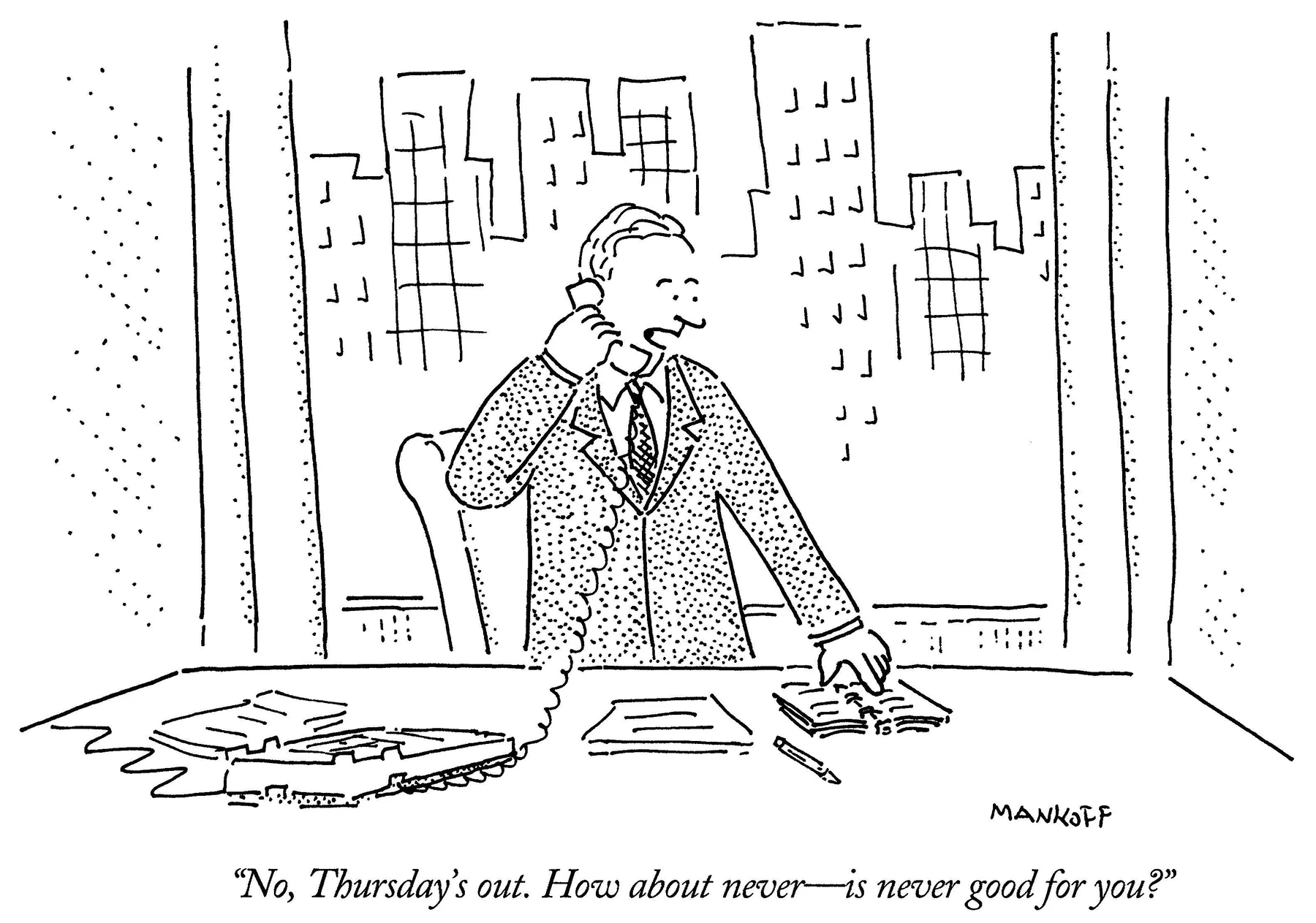 Allen, 33, is shaking up the popular notion of just what a New Yorker cartoon is, knowing that imitation is the sincerest form of apathy: "There was a vernacular shorthand of what a New Yorker cartoon looked like that people were copying — it was getting into a cycle of preexisting jokes," which is "rarely the best way to go for a laugh."
Like what? Well, it would take effort to explain, and the Washington Post can't afford to do that.
… Yet she is also introducing a wealth of fresh talent, including more women, cartoonists of color and LGBTQ artists — an initiative that began well before one staff archivist criticized the magazine's decades-long diversity record last month in a viral Twitter thread.

Allen knows what it's like to laugh in the once-stock face of the status quo.

As a kid raised on the Upper West Side,
After all, how many New Yorker staffers have ever been raised on the Upper West Side?
she would cut out New Yorker cartoons, keeping them in little green folders with all "this anal-retentiveness" of an editor — as well as the social awareness of a middle-schooler whose mother was a partner in a corporate law firm. Many of the cartoons at that time depicted "all these boardrooms and operating rooms with [only] White men," she says, "which was clearly not the case."

Then as now, though, Allen could find different perspectives in the work of such cartoonists as Roz Chast (whose work hung in her family's kitchen) and Liza Donnelly.
Chast is great, but she's been with the New Yorker since she was 23 in 1978.
Nearly 100 cartoonists have made their New Yorker debut during Allen's tenure — about half of whom have been women, Maslin says, noting that as a significant increase.

Allen has bought debut work from such top cartoonists of color as Ngozi Ukazu ("Check, Please!"), Keith Knight ("Woke"), Lonnie Millsap ("Bacon") and Liz Montague ("Cyber Black Girl").

CORRECTION

This story initially stated that Liz Montague was the first Black woman to have a cartoon published in the New Yorker, according to editors. Emily Sanders Hopkins published one before Montague. The story has been corrected.

"The 'comic industry,' generally speaking, is very White, very male and caters to a certain age and income level," Montague says of the traditional American market. "Prior to Emma becoming editor, New Yorker cartoons especially fell into that category. Emma has really made an effort to seek out different voices and perspectives and, in my case, take seriously a total random who happened to send her an email."
OK, here's the punchline of the article (but a punchline that only iSteve readers will get):
Montague cites Allen's willingness to be bold: "I submitted a draft of someone getting their hand bitten off by a Black person's hair with the caption, 'I told you not to touch it,' and was genuinely positive there was no way they would publish something like that — and they did! It was the shock of my life getting the email from Emma that they wanted that cartoon! That was the moment I realized: 'Oh wow, she's actually serious about this diversity thing.'"
This would have been funny if blood was spurting from the agonized white girl's stump while the black woman's hair chewed on her ripped-off hand like Goya's "Saturn Devouring His Son." Righteously Peeved, however, isn't funny.
By the way, I guess it's really hard for even a black woman cartoonist to draw black skin and make facial expressions — other than opening the whites-of-the-eyes-wide — recognizable. For instance, what is the expression on the other black woman's face?
Maybe we should have some sympathy for AI robots that have a hard time figuring out blacks visually under poor lighting?
Follow @steve_sailer