Biden Condemns Mounted Border Patrol: "These People Will Pay."
Search Text
Case Sensitive
Exact Words
Include Comments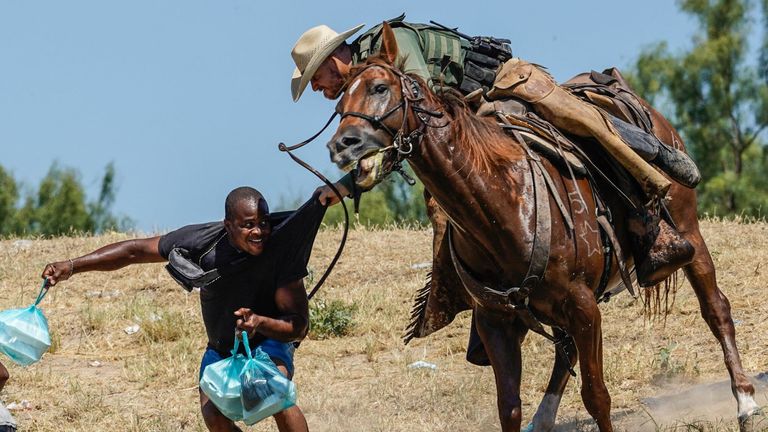 As I pointed out in my Taki's column earlier this week, the media meltdown over the Border Patrol using horses at Del Rio poses of whether in the upcoming African Exodus:
Do American leaders still believe that they have the moral right to protect the territory of the American people by force? Or will we unilaterally disarm in the Scramble for America?
From the New York Times news section today:
Biden Condemns Border Patrol Treatment of Haitian Migrants as Expulsions Continue
Video

President Biden vowed to hold the agents accountable who chased Haitian migrants on horseback as they tried to cross the Rio Grande into Texas from Mexico on Saturday.

Reporter: "You said on the campaign trail that you were going to restore the moral standing of the U.S., that you were going to immediately end Trump's assault on the dignity of immigrant communities. Given what we saw at the border this week, have you failed in that promise, and this is happening under your watch, do you take responsibility for the chaos that's unfolding?"

Biden: "Of course I take responsibility. I'm president, but it was horrible what to see — as you saw — to see people treated like they did, horses nearly running them over, people being strapped. It's outrageous. I promise you, those people will pay. They will be, an investigation underway now, and there will be consequences. There will be consequences. It's an embarrassment, but it's beyond an embarrassment. It's dangerous. It's wrong. It sends the wrong message around the world. It sends the wrong message at home. It's simply not who we are."

WASHINGTON — President Biden vowed on Friday that Border Patrol agents who rounded up Haitian migrants crossing the Rio Grande would "pay," calling the scene at the southwestern border "horrible to see," even as several members of his administration stressed that an investigation into what happened was still open.

"It's outrageous," Mr. Biden said. "I promise you, those people will pay. There will be an investigation, underway now, and there will be consequences. There will be consequences."

Later, Jen Psaki, the White House press secretary, added that the president was not "prejudging" the outcome of the investigation.
He's not?
Images of Border Patrol agents on horseback waving their reins while pushing migrants back into the Rio Grande have prompted a torrent of criticism from Democrats and civil rights groups who have accused Mr. Biden of continuing some of the most aggressive approaches to immigration put in place by President Donald J. Trump.

In a briefing with reporters on Friday at the White House, Alejandro N. Mayorkas, the secretary of the Department of Homeland Security, said that the images "painfully conjured up the worst elements of our nation's ongoing battle against systemic racism."

He added that the agents had been reassigned pending an investigation.

"This investigation will be based upon the facts," he said.

He emphasized that the inquiry should maintain its integrity, in response to a question by a reporter who pointed out that a photographer on the scene had said publicly that agents had not been using their reins to whip migrants, as had been widely speculated.

Some of the sharpest criticism has come from within the Biden administration: …

On Friday, administration officials, including Mr. Mayorkas and Ms. Psaki, fanned out in an effort to condemn the photos and address the criticism that was coming from all sides. In an appearance on "The View" on Friday, Vice President Kamala Harris likened the pictures of agents on horseback to slavery.

Ms. Harris said the episode "evoked images of some of the worst moments of our history, where that kind of behavior has been used against the Indigenous people of our country, has been used against African Americans during times of slavery." …

Correction: Sept. 24, 2021

An earlier version of this article overstated what is known about the behavior of some Border Patrol agents on horseback. While the agents waved their reins while pushing migrants back into the Rio Grande, The Times has not seen conclusive evidence that migrants were struck with the reins.
In other words, we got the story all wrong, but who cares?
Is the current American elite prepared to deal with this:
Follow @steve_sailer