Atlantic: White Parents Gaming Admissions Testing
Search Text
Case Sensitive
Exact Words
Include Comments
From The Atlantic:
Do Parents' Views on Gifted Education Vary by Ethnicity?

A recent study found that families of color at a New York City school were less willing than white families to "game" the system by prepping their kids for admissions tests to gifted-and-talented programs.

Is getting your child into a gifted-and-talented program a mark of good parenting? How you answer may depend largely on your race or ethnicity, according to new research. Allison Roda, an assistant professor of education at Molloy College in Long Island, interviewed more than 50 white, black, and Hispanic parents at an unidentified New York City school to learn about their attitudes towards gifted programs. (Her sample did not include any Asian parents.)
LOL
Meanwhile, in the New York Times:
Asian Test-Prep Centers Offer Parents Exactly What They Want: 'Results'
By ALICE YIN OCT. 25, 2017

On Main Street in Flushing, Queens's Chinatown, the GPS Academy building announces itself with a sign printed in both English and Chinese, hanging over a crush of bubble-tea shops and souvenir street vendors. …

GPS Academy is an educational enrichment business that specializes in preparation for standardized tests. Students range from seventh to 12th graders, most of them from immigrant Chinese families. Group test-prep classes like these have become a coming-of-age tradition in Asian immigrant communities, which nurse entire ecosystems of businesses like this one. According to the Bureau of Labor Statistics, a majority of New York City's 411 prep centers are rooted in Queens and Brooklyn, with over a quarter of them springing up in the past four years alone, most notably in the boroughs' Asian enclaves of Flushing and Sunset Park in Brooklyn. On the opposite coast, 861 such tutoring centers exist in California's Orange, Santa Clara and Los Angeles Counties, all heavy with Asian-American families.

At GPS, as with its competitors, one of the most popular courses focuses on New York City's Specialized High School Admissions Test, an entrance requirement for eight of the city's nine specialized high schools. …

It was in a GPS Academy class for the city high-school test, three years ago, that Join Wang first met most of his close friends. That group, now juniors at Stuyvesant and Bronx Science, regrouped again this summer for SAT classes. "It's kind of become a joke: 'What are you going to do in the summer?' 'Go to prep,'" Wang says. "We all go to prep."
From Unsilenced Science, the big development in this century in college admissions test scores is Asians (yellow line) pulling away from everybody else: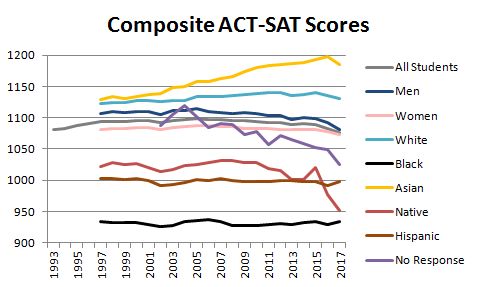 (Anybody know why there was a sudden drop in test scores in 2017?)
I think it's more than about time for a national commission on how America's standardized tests can withstand the challenges of the 21st Century.
Standardized tests like the SAT were basically invented by WASPs, like the shamed Terman Family of Silicon Valley, for test-takers with WASP views on what is sporting and the proper role of amateurism.
Later, ethnic rivals like Stanley Kaplan and his 14-year-old assistant, little Chuckie "Four 800s" Schumer (D-NY), felt that WASP notions of fair play on tests were for losers, and probably, when you stop and think about it, were hatefully anti-Semitic.
Chinese immigrants, in turn, tended to feel that the Kaplans of America were genetic arrivistes at test prep, compared to the Chinese who had been evolving under the Imperial mandarin exam system of Darwinian selection for high test scores for dozens of generations. The Kaplans and Schumers are soft and do not understand what it is to eat bitter rice.
America hasn't even built thousands of walled-in cells to keep test-takers from cheating the way the Emperor of China did, so what can you expect? Stupid Americans are just asking for it. When you stop and think about it, American testing systems built on assumptions of trust and honesty are downright anti-Sinitic.
Anyway, it's worth thinking about a national commission, say paid for by the Pentagon (a huge user of standardized tests), to evaluate cheating, gaming, and prepping realities and recommend best practices for tests.
For example, in the past the SAT test used a 2,000 word list of vocabulary words for vocabulary questions. Test preppers would get their hands on the list and memorize the current 2,000 words.
Don't be naive. Use all 45,000 or whatever words in the English language as the basis for vocabulary questions.
Another possibility is to make use of test prep to actually teach test-takers knowledge rather than just tricks for gaming the test. For example, include a section of questions take from the AP tests on American history, chemistry, English literature and so forth.
Follow @steve_sailer