America's Greatest Vice President
Search Text
Case Sensitive
Exact Words
Include Comments
The phrase "America's Greatest Vice President" doesn't show up much on search engines, with most of the few mentions going to Joe Biden, Dan Quayle, Spiro Agnew, or Hubert Humphrey.
But, really, the more I think about it, the more the title of Greatest Vice President of the Old, Weird America must belong to Dick Johnson, veep under Martin Van Buren in 1837-1841 (not counting the nine month leave of absence he took from the Vice Presidency to manage his tavern in Kentucky).
Richard Mentor Johnson:
– was elected Vice President with the campaign slogan:
Rumpsey Dumpsey, Rumpsey Dumpsey
Colonel Johnson killed Tecumseh
– belonged to a shadowy dynasty in the western cotton belt known as The Family.
– Was backed for the VP job in 1836 by Andy Jackson and Davy Crockett.
– Was dropped from the Democratic re-election ticket in 1840, but ran for re-election anyway. Wikipedia claims that his rambling, incoherent speeches on the re-election trail were poorly received, touching off a riot in Cleveland. But Johnson still won 48 electoral votes in 1840 as an independent candidate for Vice President, which doesn't sound too bad from a glass part full standpoint. Who else has run for Vice President on his own?
– Failed in re-election to the Senate in 1828 when he tried to introduce his daughters by his octoroon slave wife into polite society. Johnson pointed out, "Unlike Jefferson, Clay, Poindexter and others I married my wife under the eyes of God, and apparently He has found no objections."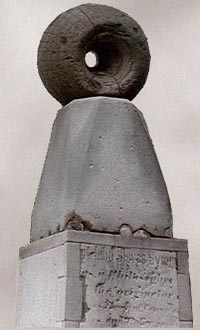 – Johnson's most visionary project as a United States Senator was his campaign in 1822-23 to fund a U.S. government expedition to explore and conquer the inside of the Earth.
Johnson was an advocate of his friend John C. Symmes' Hollow Earth theory.
All that is left of this moment in American history is the Hollow Earth Monument in Hamilton, Ohio.
When they bring out the Harriet Tubman double sawbuck, I think they should put a drawing of the Hollow Earth Monument on the back, like the Eyeball Pyramid is on the one dollar bill, just to freak everybody out.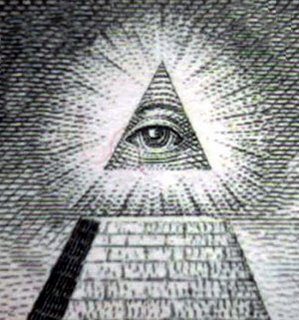 There are more things in heaven and earth, Horatio, than are dreamt of in Lin-Manuel Miranda's philosophy.
Follow @steve_sailer