Yankees Don't Like Blacks, Educators Are Blank Slatists, and Family Values Are (Not) an Asian (Black) Thing
Search Text
Case Sensitive
Exact Words
Include Comments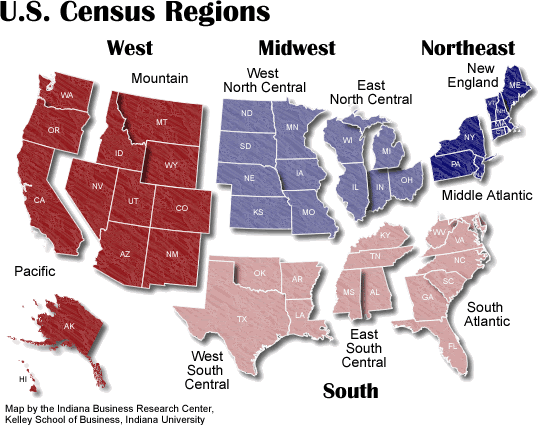 – Gab Fam man BooksmartBaller wondered about differences in region (presumably among whites) with regards to how they feel about blacks.
In 2002, the GSS asked respondents how "warm" or "cool" they felt towards multiple groups, including blacks. The higher the score, the cooler (ie less trusting of and more hostile towards) a region's whites said they felt towards blacks (N = 2,048):
| | |
| --- | --- |
| Feelings towards blacks | Index score |
| East south central | 4.27 |
| Middle Atlantic | 3.84 |
| New England | 3.83 |
| South Atlantic | 3.79 |
| West south central | 3.71 |
| West north central | 3.59 |
| East north central | 3.59 |
| Mountain | 3.58 |
| Pacific | 3.25 |
When it comes to white feelings towards blacks, the divide isn't north-south, it's east-west, with whites in the established east expressing more wariness of blacks than whites in the uprooted west.
– A couple of episodes back, on Renaissance Radio Jared Taylor guessed a lot of teachers know in their bones that there are innate differences among children of different races even if they, like so many others in the contemporary Western world, feel compelled to pretend that differences arise primarily from aspects of Nurture.
That knowledge must be buried in the subconscious marrow, as they're a bit less likely (21.6%) than the US population as a whole (25.3%) to attribute a significant genetic role to personality instead of to life experiences, as the balance of respondents do.
Orthogonally–or perhaps not, as IQ inversely correlates with tendency to attribute personality to genes rather than life experiences–the mean IQ of college and university lecturers and professors, of high school teachers, and of elementary school teachers, as given by the GSS assuming a native population IQ of 100 and a standard deviation of 15:
| | |
| --- | --- |
| Teaching level | IQ |
| University/College | 116.0 |
| Middle/High school | 110.1 |
| Elementary school | 108.7 |
Because Wordsum maxes out at a converted IQ of 129, nearly 30% of university and college professors and lecturers are hit by an artificial ceiling when it is used as a proxy for intelligence, while fewer than 2% of them are saved by the existence of a corresponding artificial floor. Consequently the Wordsum method of IQ estimation underestimates means of distributions to the right of the total population distribution and overestimates those to the left of it. The farther from the center of the population distribution, the more pronounced this effect is.
In other words, the university and college mean is probably more accurately pegged in the low 120s, middle/high school teachers around 112, and elementary school teachers around 110.
– The cuckservative canard about Hispanics being "natural conservatives" is so early-2000s, but with little yappers like Ben Shapiro trying to repackage 1990s Rush Limbaugh for Gen Z in the late 2010s, it's worth challenging the lazy assertion. By Nicholas Kristof's own accounting, family values is an Asian thing, and, to a lesser extent, a Jewish thing. It is most certainly not a black thing.
Using the GSS, the following tables show, by race, the percentages of first births conceived by teenage parents, the percentages of ever-married people who were either divorced or separated at their time of participation in the survey*, the percentages who have cheated on a spouse, the percentages who have paid for sex, and a "violation index" that simply averages percentages across the four aforementioned measures. For contemporary relevance, all responses are from 2000 onward. Sample sizes are large–in the several hundreds for Jews and Asians on the low-end and up from there:
GSS variables used: ISCO08(2310-2319)(2330-2339)(2340-2349), GENEEXPS, WORDSUM, BORN(1), FEELBLKS, RACECEN1(1)(2)(4-10), HISPANIC(1)(2-50), REGION, EVSTRAY(1-2), MARITAL(1,3,4), AGEKDBRN(10-19), EVPAIDSX, YEAR(2000-2016)
* This method counts those who've remarried as "married" rather than as "divorced" or "separated". It consequently understates the number of marriages that have ended in divorce or separation but there is no obvious reason why this should systematically 'favor' certain racial groups in terms of perceived marital success.
Merry Christmas!
• Tags:
Asians
,
Black community
,
Culture war
,
Education
,
Ethics and Morals
,
GSS
,
Hispanics
,
IQ
,
Jews
,
Kids
,
Love and Marriage
,
Race
,
The family
,
US regionalism