Search Text
Case Sensitive
Exact Words
Include Comments
American Indians often go unmentioned in our now ceaseless lectures on racial diversity, inclusion, and equity. Their insufficient enthusiasm for the cultural revolution is presumably one big reason why:
Some 447 American Indians participated in the 2018 Cooperative Congressional Election Study, so these results aren't distorted on account of a small sample size.
American Indian numbers can't grow through immigration like Hispanics, Africans, and Asians can. Even more than for whites, immigration means a decline in American Indian cultural and political clout, salience, and influence. Centuries of immigration–or invasion, as many understandably perceive it–has utterly disenfranchised them, and continues to do so today.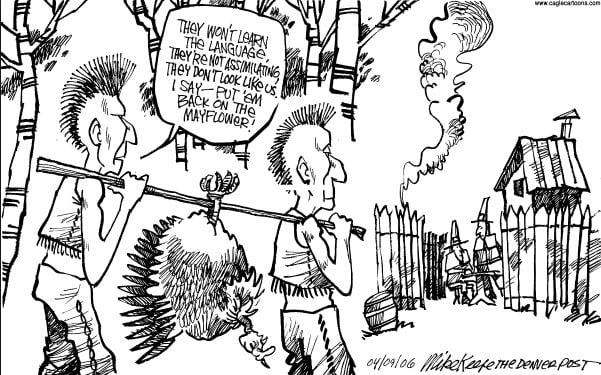 A charismatic American Indian populist standing up for middle America–the ultimate nativist, he might jokingly refer to himself as–could go far. Unfettered immigration is bad for natives, take it from me. Cultural erasure is tragic. Leave the Redskins and Colonel Reb alone. Seminoles, Cowboys, Braves, Patriots–these beloved names are integral pieces of our social fabric. We must not cancel who we are.
CCES variables used: CC18_322c_new, CC18_335, CC18_422f, CC18_422a, CC18_320d, CC18_308a(1-4), race(1-5,8)