Search Text
Case Sensitive
Exact Words
Include Comments
Edited, 4/11/15 3/17/14. See below!
Blogger "Agnostic" over at Dusk in Autumn has a post up about the regional variation in Germany (Oktoberfest, lederhosen, dirndls and Germany's cultural fault-line). As I've noted in my posts on the American nations (most recently here, see the category here), Germany has been one of the most important countries for seeding the nations of North America, if not the most important, after Britain itself. (Indeed, "German" is the largest self-reported ancestry in America – and one of the largest in Canada; but, as Greg Cochran notes, this should be taken as more of a sign of the reach of German genes rather than the true distribution of German-Americans themselves.) As was the case for Britain – made clear in the books Albion's Seed ("Albion" being the oldest known name for Britain) and American Nations – the regional origin of the German settlers should have great significance for the places they settled.
On that point:
This is a map of the common regional stereotypes in Germany (origin not clear – feel free to let me know if you know its source).
Germany is a country of contradictions. The country that:
Is the same country that:
Gave us the genocidal and ultra-nationalistic Nazis
What's up with that?
Indeed, even in the United States, there is a distinct and seemingly orderly division between the areas that contain heavy amounts of German-American settlement:
The western sections of the Midlands – and Yankeedom for that matter – contain heavy German settlement. Why are the Germans of Nebraska so much more to the Right politically than the Germans in southern New Jersey/eastern Pennsylvania?
Part of the reason is of course due to intermixing with the other settlers in the various regions, particularly the Scotch-Irish in the west (see this comment of mine over at race/history/evolution notes: Ethnic origins of presidents of the University of California system for more on that).
The answer to all these may lie in the words of "Agnostic":
Perhaps the most familiar example to us of Germans who know how to have a rollicking good time is Oktoberfest. That sure doesn't sound like a ritual created by dour, nose-to-the-grindstone martinets. Incurious foreigners might try to spin some baroque explanation for this "counter-intuitive" fact. I don't know why people have such a problem with common sense. Maybe it's not so counter-intuitive, and you're simply missing a big piece of the puzzle.

That's what's going on here — Oktoberfest comes from one half of Germany, while those other stereotypes come from the other, opposite half. No contradiction to resolve. It would be like a clueless outsider trying to explain how Los Angeles stereotypes ultimately and tortuously derive from American Puritanism — wrong part of the country.
(Well, I can explain how L.A. culture derives from American Puritans, but I digress.)
Germans in different parts of Germany are quite different from one another in many ways. Ergo, places that received German settlers may differ from one another depending on from where, exactly, these settlers originate – just as the case with Britain.
Germany was forged into a unified country fairly recently compared to the other old European powers, having been united into the German Empire in the 1870s. Before that it consisted of various de facto sovereign states at various stages of consolidation. Regional differences have remained evident.
Agnostic gives us a few examples. Google searches reveal cultural divides within Germany:
HBD Chick has also looked at this issue, noting a distinct East-West divide in the country terms of civicness:
As you would expect from its geographic location, Germany (and Poland) gradually transitions from outbred Western Europe to inbred Eastern Europe, just as one would expect as one approaches/crosses the Hajnal line (or about such).
Indeed, the aforementioned neo-Nazi town is, sure enough, in the East, in the area marked "Uncharted" on the map (not too far north from the section marked "Nazis").
EDIT: 3/17/14: As further evidence for the existence of a East-West and a North-South divide in Germany, here (courtesy commenter Richard), a map of the results of German federal election, from March 1933 (from Wikipedia):
EDIT, 4/11/15: [Here are voting patterns in Germany for earlier years during the Weimar period (credit here):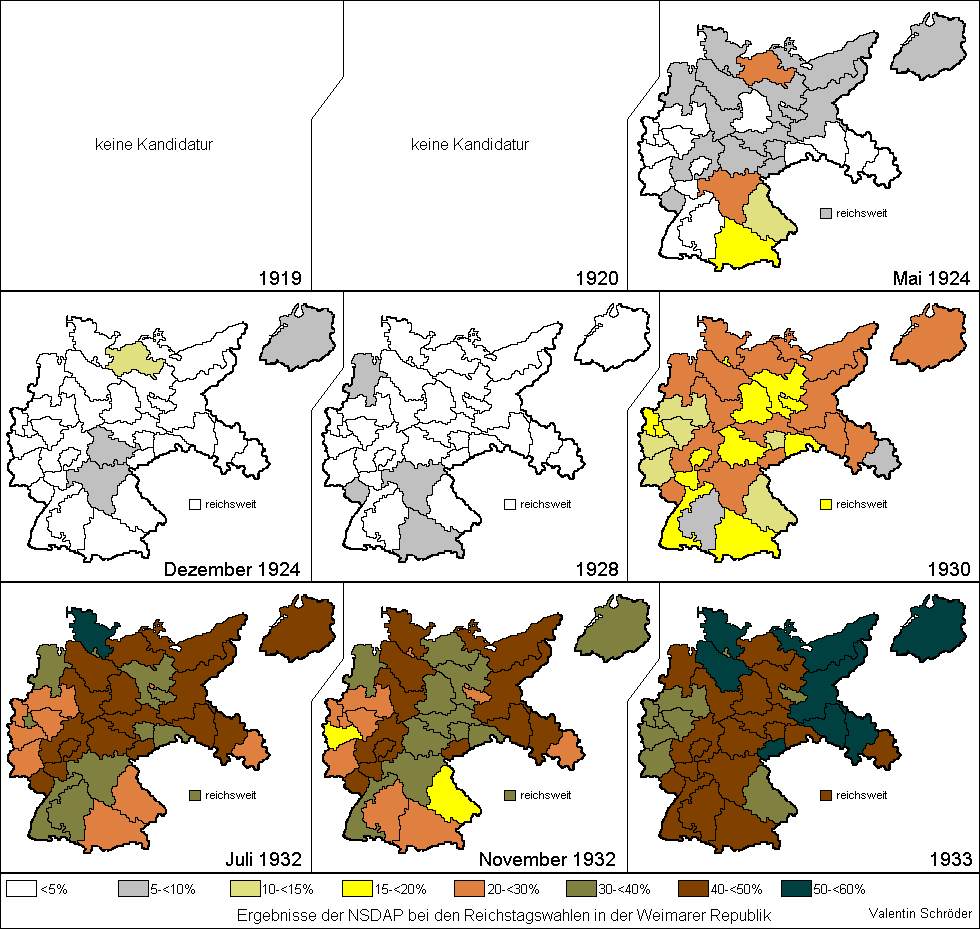 We can see that while there is some variation, the strong regional differences remain evident during the entire period. ***End Edit***]
This gives us an indication that German emigrants might systematically vary depending on which section of the country they originate. There were several waves of German settlement to the U.S. The earliest waves, the Pietists that settled in William Penn's Delaware colony. Many of the early colonists came from the Palatine region – the area marked "Cheerful" on the above map. Several of the subsequent waves originated in that area. However, the flow of migrants remained strong, and indeed, began to swell during the 19th century, when, all told, nearly 6 million Germans came to America (unfortunately, I don't have regional breakdowns of these subsequent immigrants).
If there was a distinct regional skew in where these settlers to America originated, it might go a long way towards explaining a few things. If you have any information on this, please feel free to share it.
(Republished from
JayMan's Blog
by permission of author or representative)
Follow @JayMan471