You Can't Say Muammar Didn't Warn Us
Gaddafi: Europe will 'turn black' unless EU pays Libya £4bn a year

Col Muammar Gaddafi has warned that Europe runs the risk of turning "black" unless the EU pays Libya at least €5 billion (£4.1 billion) a year to block the arrival of illegal immigrants from Africa.

By Nick Squires in Rome 5:52PM BST 31 Aug 2010

His remarks, made during a controversial three day visit to Italy, were condemned as "unacceptable blackmail" by Italian MPs, who likened the demand to the protection money that mafia gangs demand from businesses.

Speaking at a ceremony in Rome while standing next to Silvio Berlusconi, Italy's prime minister, Col Gaddafi, 67, said that unless his request for money was met, Europe would otherwise become "another Africa" as a result of the "advance of millions of immigrants".

"Tomorrow Europe might no longer be European and even black as there are millions who want to come in," he said.

"We don't know if Europe will remain an advanced and united continent or if it will be destroyed, as happened with the barbarian invasions".
The following year, Hillary had Gaddafi sodomized to death.
With nobody in power to bribe in Libya, the migrants from sub-Saharan Africa started to flow across Libya to Italy in earnest.
Now, six years after Gaddafi, there are slave auctions in Libya:
By the way, George Orwell said, "At fifty, every man has the face he deserves," which you can see by comparing Gaddafi's black & white news photos to his color news photos.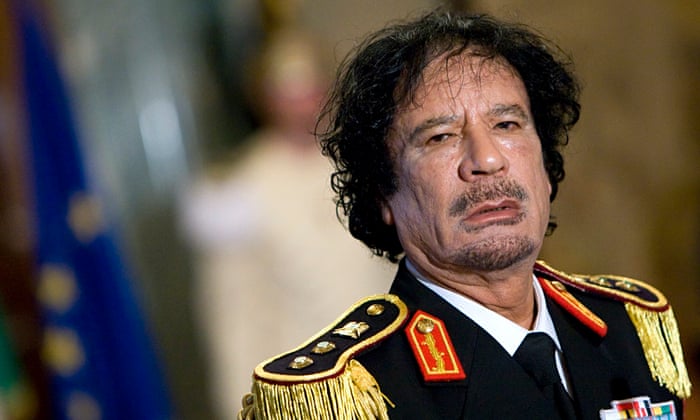 Did the late Alan Rickman ever get a chance to play the older Gaddafi?
Follow @steve_sailer