When Did Movie Stars Get Into Steroids?
Search Text
Case Sensitive
Exact Words
Include Comments
Male movie stars were not expected to lift weights for much of Hollywood history.
For example, around 1983-85 I was sitting in a repertory movie theater in Chicago watching Hitchcock's 1954 thriller Rear Window. Jimmy Stewart, playing a recuperating photographer who is temporarily wheelchair-bound, takes his shirt off at one point, and the three extremely effeminate black gays sitting in the row behind me erupted into tittering laughter at Col. Stewart's physique, which was that of a middle aged man stuck in a wheelchair for several months.
By the mid-1980s, that wasn't what a real man was supposed to look like.
In contrast to the 1950s, contemporary movie stars are supposed to not only look like they are pumping iron religiously no matter what the role (unless they are specifically supposed to be below their healthy weights), but they're also supposed to shave their chests, even if they are trapped on Mars like Matt Damon in The Martian.
But when did this change?
Obviously, it must have happened right in front of our eyes — since movies don't happen anywhere else — but the history of what we all had to have seen has largely gone unwritten.
Bodybuilding has a long history, although it was mostly a niche market.
The Works Progress Administration installed exercise equipment just south of the Santa Monica Pier in 1934. By 1959, Muscle Beach had become such a tourist attraction that the Santa Monica city fathers kicked it out, and the weightlifters relocated a couple of miles south to Muscle Beach Venice in municipal L.A.
Sword and sandal movies around 1960 employed Muscle Beach types in various roles, but these weren't prestige undertakings.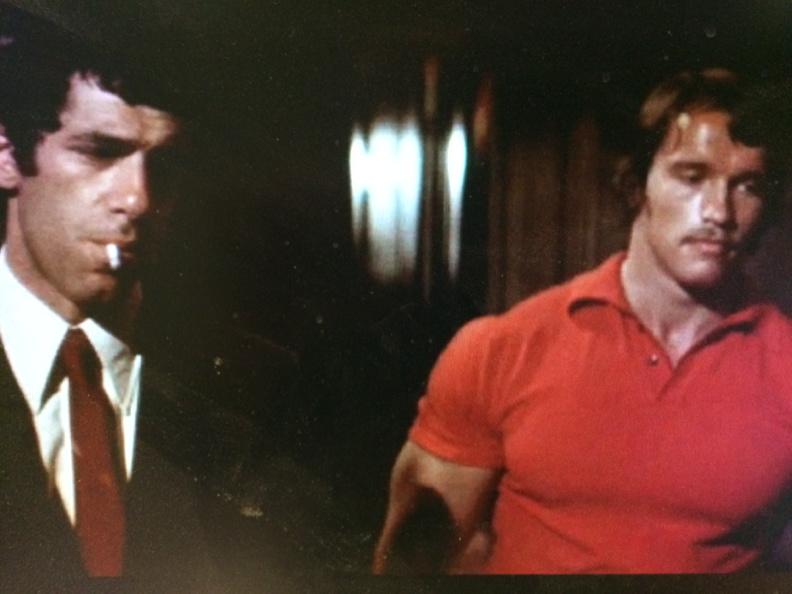 When I was young, notable muscularity was considered a downscale, outmoded taste. 1960s rock stars tended to be very slender, and the general theory was that educated women didn't like muscle men. It was an era of ectomorphs. Here's a still from the Robert Altman film The Long Goodbye that briefly caught the present in 1973 — leading man Elliott Gould as Philip Marlowe — and the future — Arnold Schwarzenegger as Uncredited Hood.
The rise of Schwarzenegger in the 1970s caused a certain amount of cognitive dissonance, as Schwarzenegger was obviously smart and cool. He earned enough interest from Hollywood in the 1970s that he had big roles in a documentary and a feature film about bodybuilding.
Eventually, in 1982 he got a starring role in a fairly big budget film, Conan the Barbarian, that did well. But in 1982 it was still easy to dismiss Schwarzenegger as simply the new Steve Reeves, It wasn't until 1984's Terminator that the idea of Schwarzenegger as the wave of the future began to sink in.
What about Sylvester Stallone?
1976's Rocky famously launched the "we're-gonna-need-a-montage" workout scene, but in the first couple of Rockys, Sylvester Stallone was not obviously on steroids.
Maybe he was, but it wasn't as flagrant as it became.
I can't recall offhand if the turning point was 1982's Rocky 3 or 1985's Rocky 4.
Probably the former, because Stallone directed John Travolta in 1983's sequel to Saturday Night Fever, Staying Alive, in which Travolta is hugely ripped.
But, perhaps more influentially, the idea of "body transformation" as a tool of the craft of acting had infiltrated the prestige end of the movie business in the 1970s. A subtle early example was Robert De Niro losing weight to look nervous and uncomfortable in Martin Scorsese's 1976 movie Taxi Driver, one of the most influential movies of all time.
Looking at the picture above, especially at the veins in his forearm, I'm starting to wonder if De Niro didn't just lose weight for Taxi Driver. I've never once heard the word "steroids" mentioned in conjunction with this ultimate 1970s art film, but maybe the umpteen critics who have weighed in on Taxi Driver have just been naive about the essence of its appeal.
The ex-seminarian Scorsese, personally, is not the most masculine of men, but he's perhaps the greatest artist of masculinity of his generation. If I Google "Scorsese steroids" I find countless references to his movies as such and such "on steroids," but on the other hand I don't see any speculation that Scorsese would ever encourage one of his actors to use performance-enhancing drugs. So forget I even mentioned the subject.
In 1980, De Niro was much celebrated and given the Best Actor Oscar for Scorsese's Raging Bull. At the time, the ostensible subject of the hosannas over his body transformation was his putting on 60 pounds to play an older Jake La Motta in the coda. I suspect, however, that within Hollywood, more professional attention was devoted to how De Niro had added muscle for the fight scenes. (In the 35 years since Raging Bull, getting intentionally fat has not become a rite of passage for actors.)
When we walked out of Raging Bull in 1980, my friend Steve said, "That was amazing, but what was it about?" The only thing I could think of, then and now, is, "Masculinity."
I don't think it's wholly unlikely that Italians such as De Niro, Scorsese, Stallone, and Travolta played a disproportionate role in introducing the bodybuilding aesthetic to American movies. After all, the sword and sandal productions were largely Italian. Moreover, the greatest work of art in Italian history is Michelangelo's David.
In the 1980s, Sean Penn began changing his shape from role to role. For example, in 1985's The Falcon and the Snowman, he was a skinny and nervous cocaine dealer, while in 1986's At Close Range, Penn was massive. He was much praised at the time for changing the shape of his body to suit his roles seemingly as easily as other actors changed their accents.
Penn went on to have some problems that sound like 'roid rage, such as beating up a paparazzi so bad he spent a month in jail. (After his divorce from Madonna, she called him up to ask if she could employ his personal trainer. He said yes, and soon a toned-up Madonna emerged at the peak of her self-confidence on her Blonde Ambition tour.)
Pretty soon body transformation became a regular thing in Hollywood. I can recall laughing at how muscular Bruce Willis had suddenly become for 1988's Die Hard. But after that, I don't have as many memories of being surprised by actors' new looks, because it was less surprising when a star suddenly added 30 pounds of muscle for a role.
Today, it's normal for actors to change their bodies to suit a role. For example, about a half-dozen years ago I saw Jake Gyllenhaal at the yogurt stand. He looked ridiculous all inflated to play action hero The Prince of Persia. Last year, he played an insidiously skinny anti-hero in Night Crawler. So, I figured he must have sworn off PEDs, and good for him. But this year he was in a boxing movie, all ripped again.
Body transformation really is a useful tool for actors. For American Sniper, for instance, normally skinny and jittery Bradley Cooper bulked up with an extra 40 pounds of muscle and fat to play the calming presence of the defender of the flock.
But what kind of price do these guys pay? Besides the health issues, what does it do to actors' psyches, attitudes, and expectations? What does it do to audiences?
I may have wrong the history of actors' body transformation, with De Niro and Penn as key figures at the serious dramatic end of the business.
It's a hard thing to research, precisely because there is a huge amount of click bait on the subject: a lot of people seem to like clicking on photos of actors who have changed how they look and reading about how they did it all eating kale and wrestling alligators or whatever the latest fad/cover story is. (A lot of magazine cover stories about actors getting in shape are cover stories. The basic way to get big fast is to lift free weights and take PEDs.) But the clickbait almost wholly refers to actors from from recent decades, so it's hard to find much of a historical thread.
And the topic hasn't aroused much intellectual interest at all. It probably helps explain a number of cultural trends, but nobody has written all that much about it.
(I wrote a little about the early history of steroids in football and other sports in Taki's Magazine this week in "The Republican Drug.")
In the always controversial exception-that-proves-the-rule category, here's my review of the rare movie in which the character clearly was out of his head on steroids but the actor refused to risk his health by buffing up: 2010's Casino Jack with Kevin Spacey being his usual pudgy self as Republican lobbyist / steroid abuser Jack Abramoff, whom George W. Bush greets when he's escorting several Indian chief clients into the Oval Office with, "Hey, Buff Guy, what are you benching?"
As far as I can tell, however, no other reviewer got the point of Casino Jack's screenplay. Maybe if the 51-year-old Spacey had gotten down to 8% body fat and done a round of interviews about his amazingly transformative workout routine, critics would have noticed what the movie was actually about. But, then again, probably not.
Follow @steve_sailer