Search Text
Case Sensitive
Exact Words
Include Comments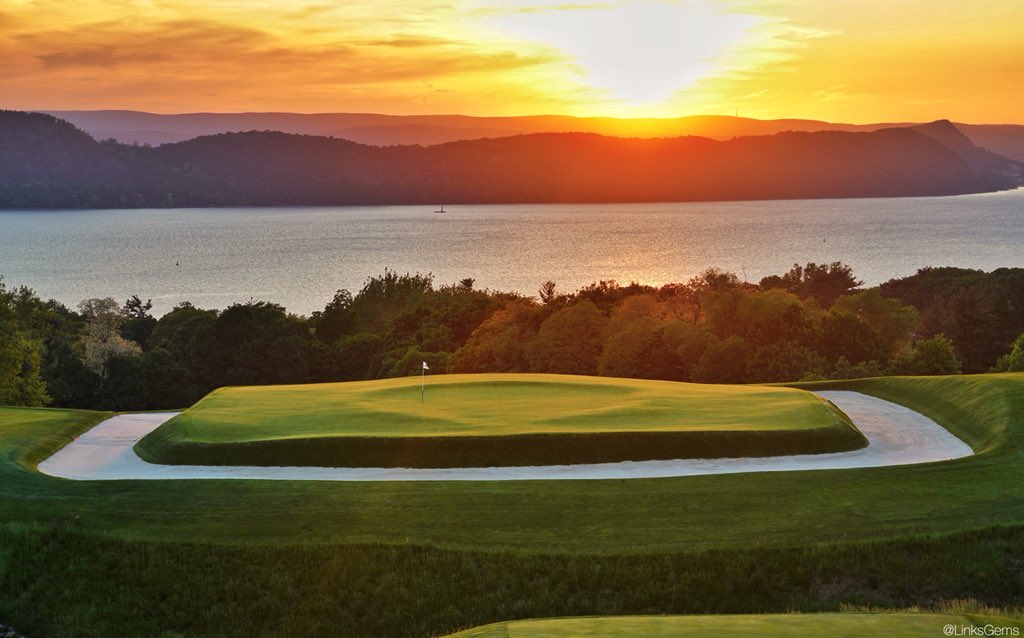 One of Paul Johnson's observations is that aesthetic trends unite enemies. For example, King Louis XVI, Robespierre, and Napoleon didn't really get along politically, but they all felt the neoclassical style was the only fitting style for a public building.
When I looked back on golf course architecture from the late 20th Century, it suddenly seemed obvious that the Robert Trent Jones era of roughly 1948-1968, which ended more or less with the mobbed-up failure of Dean Martin's Beverly Hills Country Club, reflected the tastes of the Modernist era in building architecture, such as Mies van der Rohe glass-and-steel skycrapers like the Seagram's Building. In contrast, the Pete Dye era that followed RTJ had something in common with the postmodernist era in building, such as those of Robert Venturi.
Above is a photo by Jon Cavalier of the par 3 16th at Sleepy Hollow on the Hudson River just north of the new Tappan Zee bridge. The course was built in 1911-1913 by Charles Blair Macdonald and Seth Raynor on a Vanderbilt estate for a club organized by a Vanderbilt, Astor, and Rockefeller: i.e., extreme old money WASP. It was updated in the 1920s by A.W. Tillinghast and recently by Gil Hanse.
The publication of Cavalier's photo of this hole a year or two ago caused a sensation among followers of golf course design fashion: Macdonald, who was wildly out of fashion in the 1970s, is now the most prestigious golf course architect, just as he was over 100 years ago when he designed the National Golf Links of America in the Hamptons. This hole is Hanse's slightly hallucinatory tribute to Macdonald's squared-up designs.
In some ways, this design looks ridiculous: the usual rule of thumb is that a golf course should look "natural." But a square green indented by a thumbprint-like crater and surrounded by a trench-like bunker with right angle curve looks more like a grassed-over battlefield.
I'm guessing that 2019 golfers like this hole for the same reason they like an Apple Store. It's what's in style.
Follow @steve_sailer