Search Text
Case Sensitive
Exact Words
Include Comments
I was over the hill and stopped by the La Brea Tar Pits in the insurance company highrise district, where hundreds of Ice Age wooly mammoths met their demises. Here are the tragic fiberglass statues of Daddy Mammoth sinking into the ooze while Mommy and Baby Mammoth trumpet forlornly:
I was pleased to find that movie star Emma Stone shares my regard for the Tar Pits (even if movie star Ryan Gosling does not). From an interview promoting their movie La La Land:
Q. When you moved to Los Angeles as teenagers, did you have an image of the city fixed in your heads?

Emma Stone: I had been here before and seen the Hollywood sign and the Walk of Fame and Grauman's. So I was more just figuring out how to live here. I stayed within my little Miracle Mile area, around the Tar Pits. That was mind-blowing for me, the Tar Pits. You go to the Tar Pits often?

Ryan Gosling: I don't go there often.

Stone: Do you even know about the Tar Pits?

Gosling: Sure, I know about the Tar Pits. [Whispers to interviewer: What is she talking about?] OK. I've never been to the Tar Pits.

Stone: [Incredulous] You've never been to the Tar Pits? Ever?

Gosling: This is turning into an intervention.

Stone: It's just fascinating that in the middle of Los Angeles, there are pits of tar with the bones of a woolly mammoth and some dinosaurs.
Actually, I don't think there are any dinosaurs in the La Brea Tar Pits: just mammoths, mastodons, dire wolves, giant ground sloths, camels, and sabre-tooth tigers. But I appreciate Miss Stone's enthusiasm.
Gosling: [To interviewer] Can we cut this short? I have to go to the Tar Pits … right now.
I strolled over to the giant Los Angeles County Museum of Art campus and dropped by Los Angeles's most hugely popular work of art of this century: Urban Light, a grid of 202 vintage 1920s-30s street lights on Wilshire Boulevard. It's basically wall-t0-wall girls having their pictures taken.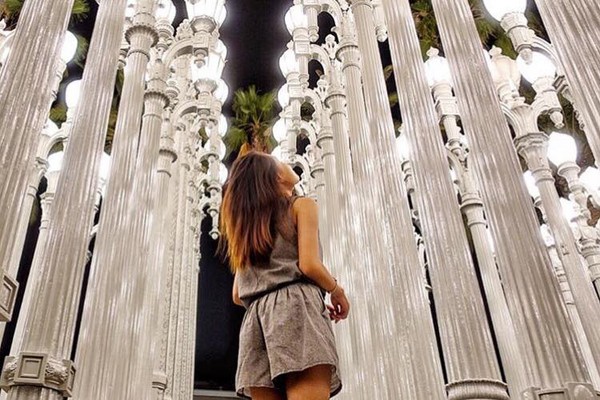 My guess is that the recent street light-centric movie La-La Land was inspired by this installation.
My suggestion is that every city in America should have its own version of Urban Light on some downtown block.
Obsolete street lamps are, presumably, a dime a dozen.
They're pretty useless at illuminating the sidewalk because they shine the majority of their light up.
But as emblems of downtown glamor, as reminders of how our ancestors had style, they can't be beat.
One question for other cities is whether the estate of the late artist Chris Burden owns the rights to displaying junked street lamps as works of art.
But you can't deny that Burden came up with an idea that makes people happy.
Follow @steve_sailer