I finally got around to watching a couple of movies by the great French comedian / director Jacques Tati, 1959′s Mon Oncle and 1967′s Play Time.
Tati, a successor to Chaplin and Keaton, made post-silent comedies without much plot or dialogue but with a lot of sound effects and visual gags.
Tati liked the eccentric, traditional Paris and aimed his satire at the coming wave of rationalized, Americanized modernism.
These films star his standard character, a tall, amiable pipe-smoking duffer named Monsieur Hulot who grapples, not particularly effectually, with the modern world.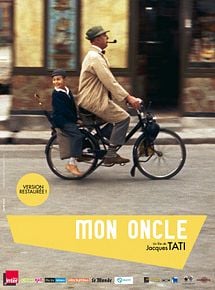 Monsieur Hulot is a man well suited for life in the picturesque and extremely French working class neighborhoods of Paris.
His nine-year-old nephew, who lives in an expensive all-white modernist mansion where he is bored silly, is entranced by his opportunities to visit his uncle in his downscale French world of motorbikes, horse-drawn carts, and dubiously added-on apartment buildings.
Here's a photo from 1966 of my father and I trying to recreate the famous poster shot from Mon Oncle on my dad's new Honda 90:
For decades, this photo and the uncharacteristically carefree expression on my worrywart dad's face were vaguely associated in my mind with the words "French comedian." So I'm very happy to have finally watched the movie (even though, it turns out, we were going the wrong direction).
But Monsieur Hulot is more than a little lost when he must venture into modern International Style districts.
In fact, Play Time is set in a steel and glass skyscraper district of Paris that didn't exist yet.
Tati went broke building a set that looked like Sixth Avenue in New York City.
One running joke are the travel posters inviting you to visit destinations such as London, Hawaii, Mexico, and Stockholm by showing the same International Style skyscraper in each:
Watching Mon Oncle and Play Time got me thinking about the Flynn Effect of rising raw scores on IQ tests.
The Flynn Effect is one of the more unexpected and interesting social science discoveries of the later 20th Century.
The Flynn Effect has been strongest on IQ subtests that are least affected by local cultures and that most resemble having to deal with electronic machine logic.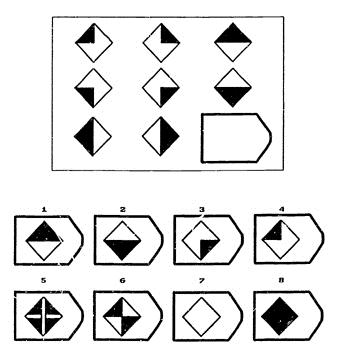 The futuristic Raven's Matrices tend to be less culturally biased than other IQ tests but has had a very large Flynn Effect of about 3 points per decade, or a standard deviation per half-century.
I don't think it's a coincidence that the first American IQ test, Louis Terman's Stanford-Binet, emerged in what's now Silicon Valley and that Louis's son Fred Terman, Stanford's Dean of Engineering, has perhaps the best claim to be the father of Silicon Valley. My general hunch is that one cause of the Flynn Effect is that early IQ test designers had a pretty good sense of the direction in which the world would be moving: away from tacit, locally idiosyncratic patterns of behavior and toward machine logic ways of thinking, a shift in which Silicon Valley has led the world.
Much of the joke of the Monsieur Hulot movies is that Monsieur Hulot is a pre-Modernist man. He is accustomed to the Paris of the first half of the 20th Century, which in Tati's view is about as good as human life gets. But, despite, being a curious fellow open to new things, Monsieur Hulot can't seem to become accustomed to the global culture of the second half of the 20th Century.
In this scene from Play Time, Monsieur Hulot has ventured to a new skyscraper to take care of some business. A 75-year-old messenger boy tries to notify the man Hulot has come to see via a new message machine that's like a Raven's Coloured Progressive Matrices IQ test:
In Mon Oncle (1959), Monsieur Hulot investigates his wealthy sister's ultra-modern kitchen (my apologies for the sound on this clip being slightly out of sync — Tati movies need the sound effects to be perfectly synced with the action):
Tati was a rich kid who was a gentleman rugby player before he got into comedy. He started out in show biz doing impressions of rugby players, so I imagine that's what he's doing bouncing the plastic coffee pot.
And here's a link to a classic scene in Mon Oncle in which Monsieur Hulot's upwardly-mobile in-laws try out their new automated garage door with the electric eye trigger that their dachshund can't open for them when they get trapped in the garage because he feels guilty, although he doesn't know why, and thus isn't wagging his tail.
This is the saddest scene ever.
And then they call their maid to set off the electric eye, but she's afraid of electricity.