Search Text
Case Sensitive
Exact Words
Include Comments
The Racist Objects Crisis of 2019 intensifies. From CNN:
Store withdraws chocolate ducklings over racism complaint
By Jack Guy, CNN

Updated 10:39 AM ET, Tue April 9, 2019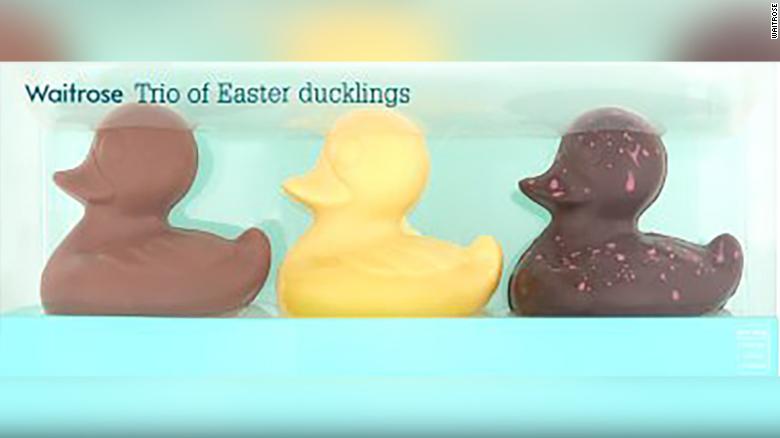 Grocery chain Waitrose has been accused of racism for labeling the dark chocolate duckling as 'Ugly' in its 'Trio of Easter ducklings' product.

(CNN)UK grocery chain Waitrose has apologized after being accused of racism over the names of three chocolate ducklings.

The "Waitrose Trio of Chocolate Easter Ducklings" contains a white, milk and dark chocolate version, which were named "Fluffy," "Crispy" and "Ugly" respectively.

A Twitter user questioned why Waitrose had chosen to call the darkest duckling "Ugly."

"Overheard women saying 'this is not right,' I agree, doesn't look good at all," wrote Livia A. Aliberti on March 7.

… One possible explanation for the naming is a reference to the Hans Christian Andersen fairytale "The Ugly Duckling."
That reminds me of a question I've often wondered about: at my local lake, the Franklin Canyon reservoir, there are a lot of wild ducks paddling about in mixed species/breed groupings. Why do diverse ducks flocks together like in a Benetton ad, when most other birds of a feather do not?
Follow @steve_sailer