New Frontiers in Black Rage Studies: Who Would Win In a Fight: Serena or Beyoncé?
Search Text
Case Sensitive
Exact Words
Include Comments
Alert iSteve reader iSteve_reader notes that Professor Salamishah Tillett, author of that New York Times op-ed about how Serena Williams's Tennis Temper Tantrum has liberated the many black women who are angry that they have been stereotyped as angry black women to finally act out on their anger against other people noticing they are angry, is not just any old angry black woman. Prof. Tillett is a Professional Angry Black Woman who has served as an Ivy League lecturer in the apparently booming field of Black Rage Studies.
Her 2017 course at the U. of Pennsylvania:
courses > graduate > 2017 spring
Black Rage: Race, Affect, and the Politics of Feeling
ENGL 570.401
crosslisted as: AFRC 570, GSWS 570
instructor(s): Salamishah Tillet
Tuesday 9-12:00

"To be a Negro in this country and to be relatively conscious" wrote James Baldwin "is to be in a state of rage almost all the time." While more attention has been paid to how other feelings like forgiveness or love have been the moral underpinnings to African American social movements, this class makes an effort to look at the history of and value this more difficult but equally important African American cultural expression of black rage, one that is often maligned as a destructive [needs a noun] and subject to hyper-surveillance and suppression. We will take an interdisciplinary approach to understanding this phenomenon by looking at the discourse surrounding events, like Nat Turner's slave rebellions, Stonewall, the Attica Uprising, and Black Lives Matter, historicize the construction of "black rage" as a medical disorder and legal defense, study its offshoots, like "protest psychosis" and the "Angry Black Woman," and examine how artists as vast Richard Wright
Unfortunately, Professor Tillet's efforts at proofreading her own prose were only half-vast.
, Nina Simone, Alice Walker, Glen Ligon, Public Enemy, Kara Walker, and Solange have explored it as a site of black resistance. Focusing on one of the most misunderstood African American political emotions — black rage — this course will examine how artists and activist have steadily moved it from the margins of black life into to [sic] the mainstream in American culture.
Her idea that Black Rage is now in the mainstream in American culture seems plausible. Indeed, perhaps Black Rage is the mainstream in American culture at the moment.
Not surprisingly, beyond her thought leadership in Black Rage Studies, Professor Tillet is also a national leader in the emerging scholarly field of Beyoncé Studies:
Family Feuds: Beyoncé, Jay-Z, and Solange and the Meaning of American Music
ENGL 084.401
crosslisted as: AFRC 226, GSWS 224
instructor(s): Salamishah Tillet
TR 3-4:30
fulfills requirements:
Sector 2: Difference and Diaspora of the Standard Major
Sector 6: 20th Century Literature of the Standard Major

Taking Beyoncé's "Lemonade," Solange's "A Seat At The Table," and Jay-z's "4:44" as a point of departure, this class will focus on the role of popular music as "politics" within contemporary American culture. While these albums are clearly neither the first nor the only musical expressions to delve into the matters of black lives, feminism, and sexuality today, they do mark a very significant political and personal evolution for these individual artists and their audiences as they relate to the defining issues of our time. By looking at how each artist engages their influences (Nina Simone is [a] staple for all three) and discussing how these albums challenge musical forms and incorporate different visual mediums, this course will reflect on the conversations these artists are having with each other and examine their cultural impact in order to understand the limits and possibilities of black musical expressions as sites of social change.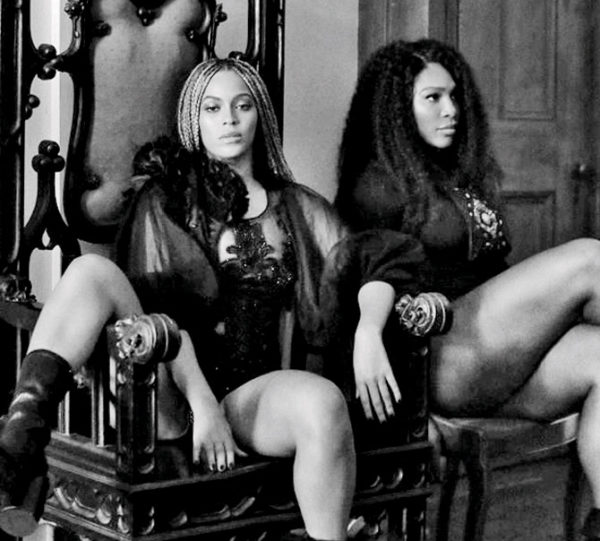 Merging Black Rage Studies and Beyoncé Studies could produce some important interdisciplinary scholarship. I could foresee in the near future a grad level research seminar devoted to the question of "Who Would Win In a Fight: Beyoncé or Serena?" Guest lecturers offering important perspectives could include Nicki Minaj and Cardi B.
Perhaps Don King could come out of retirement to make one last contribution to the Life of the Mind by promoting a Beyonce vs. Serena seminar, with an undercard of a rematch of the popular Solange vs. Jay-Z Elevator debate.
This could do massive Pay per View business in urban centers. Indeed, the pre-colloquium weigh-in could break PpV records by itself. Suggested topics for discussion between Beyonce and Serena during the weigh-in include:
"You are losing the baby weight so slowly that …"

"Compared to my husband, your husband is so poor that …"

"I may have 37 highly paid writers working on my material, but your nerd husband crowdsources your Dozens insults on Reddit."

"Sure, white male racism is why you have won only 23 major championship titles, but they only gave me 22 Grammys, so I'm the bigger victim."

"You grew up around so many white kids at tennis school that you own five electric guitars and listen to Green Day."
And to broaden the appeal to the pro-Trump parts of the country, Don could add a rematch of the legendary 2009 I'm A Let You Finish discussion between Kanye West and Taylor Swift.
For intellectuals, there could be a rematch of the celebrated Upper West Side Escalator Encounter between little Ta-Nehisi Coates Jr. and Elaine "C'mon!" Benes.
In a more crowd-pleasing event early on the card, BBQ Becky would get what's coming to her.
Add an opening Festschrift featuring the rising star Hammerhand Cheerleader vs. some Bumette of the Month and academia will never be same.
Let's make this happen, people!
It's who we are.
Follow @steve_sailer