Labour Shadow Minister from Rotherham Out After Mentioning Who Is Raping Girls
Sarah Champion resigns as shadow equalities minister

Labour MP wrote controversial article in the Sun saying 'Britain has a problem with British Pakistani men raping white girls' …

Jessica Elgot Political reporter
Wednesday 16 August 2017 11.28 EDT

Sarah Champion has resigned as shadow equalities minister after a controversial article published in the Sun newspaper in which she wrote: "Britain has a problem with British Pakistani men raping and exploiting white girls."

The MP for Rotherham had initially tried to distance herself from the article, but she said she was concerned her position in the shadow cabinet had become a distraction after it emerged her aides had signed off on the piece.

"I apologise for the offence caused by the extremely poor choice of words in the Sun article on Friday," she said. "I am concerned that my continued position in the shadow cabinet would distract from the crucial issues around child protection which I have campaigned on my entire political career.

"It is therefore with regret that I tender my resignation as shadow secretary of state for women and equalities." …

A source at the newspaper said her office had been sent a PDF of the final print version. "Sarah Champion's column, as it appeared on Friday, was approved by her team and her adviser twice contacted us thereafter to say she was 'thrilled' with the piece and it 'looked great'," a spokeswoman said.

"Indeed, her only objection after the article appeared was her belief that her picture byline looked unflattering. Her office submitted five new pictures for further use."
This would make a good plot for an Armando Iannucci sitcom about political staffers, like The Thick of It and Veep.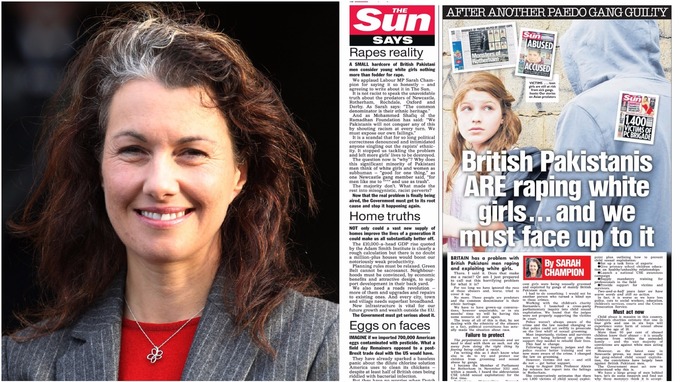 Her resignation on Wednesday afternoon came after more than 100 cross-party MPs led by the Labour MP Naz Shah wrote to the Sun to condemn an article by one of its columnists….

In her published piece, Champion wrote: "Britain has a problem with British Pakistani men raping and exploiting white girls. There. I said it. Does that make me a racist?
I guess we know the effective answer to that question today …
Follow @steve_sailer