Fake Art vs. Fake Music: Relics vs. Reproductions
Search Text
Case Sensitive
Exact Words
Include Comments
In a comment about my new Taki's column "State of the Art," iSteve commenter Mr. Anon observes:
Another point about music vs. art: [music's] value is intrinsic, not relational, a least a lot more so than art, especially modern art.

If it were found tomorrow that a symphony by Mozart, or Beethoven, or Schumann, or Shostakovich, had not been written by the purported composer, but by some anonymous composer who passed it off as someone else's, its place in the repertoire probably wouldn't change at all. It would get played just as much, sell just as many records, etc. But if some piece of modern art (piece of…., in this case being an apt term) were found not to have been created by the celebrated artist it was claimed to have been by, it's value would instantly plummet – 50%? 90%? More?
This has happened spectacularly in the visual art world. For example, physicist A.L. Barabasi writes in his new book The Formula:
… Consider Rembrandt's Man with the Golden Helmet, which, up until the mid-eighties, attracted droves of art appreciators to the Bode Museum in Berlin. … The painting was the most popular work of art in the entire museum, and was undoubtedly beautiful. But when scholars announced that The Man with the Golden Helmet had been misattributed to Rembrandt — its true maker now downgraded to an unknown Dutch artist in Rembrandt's circle — the crowds vanished. … virtually overnight interest waned, its value plummeted, and a few could remember what the fuss was about.
Rembrandt may have had some input into this painting, such as tutoring the artist and/or advising him. For all we know, this could have been Rembrandt running a forging operation of his own stuff using his best apprentices.
In contrast, we celebrate Orson Welles for being the auteur of Citizen Kane. But how much of the screenplay, for which Welles shared an Oscar with Herman J. Mankiewicz did Welles actually write?
There are probably a lot of famous works of art out there in which the named artist's contributions are more like that of a movie director than of, say, Michelangelo laying on his back for four years painting the Sistine Chapel ceiling. (Michelangelo did do that, right?)
Or the opposite happens. There's the painting of Christ by Leonardo da Vinci, one of only twenty or so paintings attributed to him, which in 2017 sold for a record-shattering $450 million.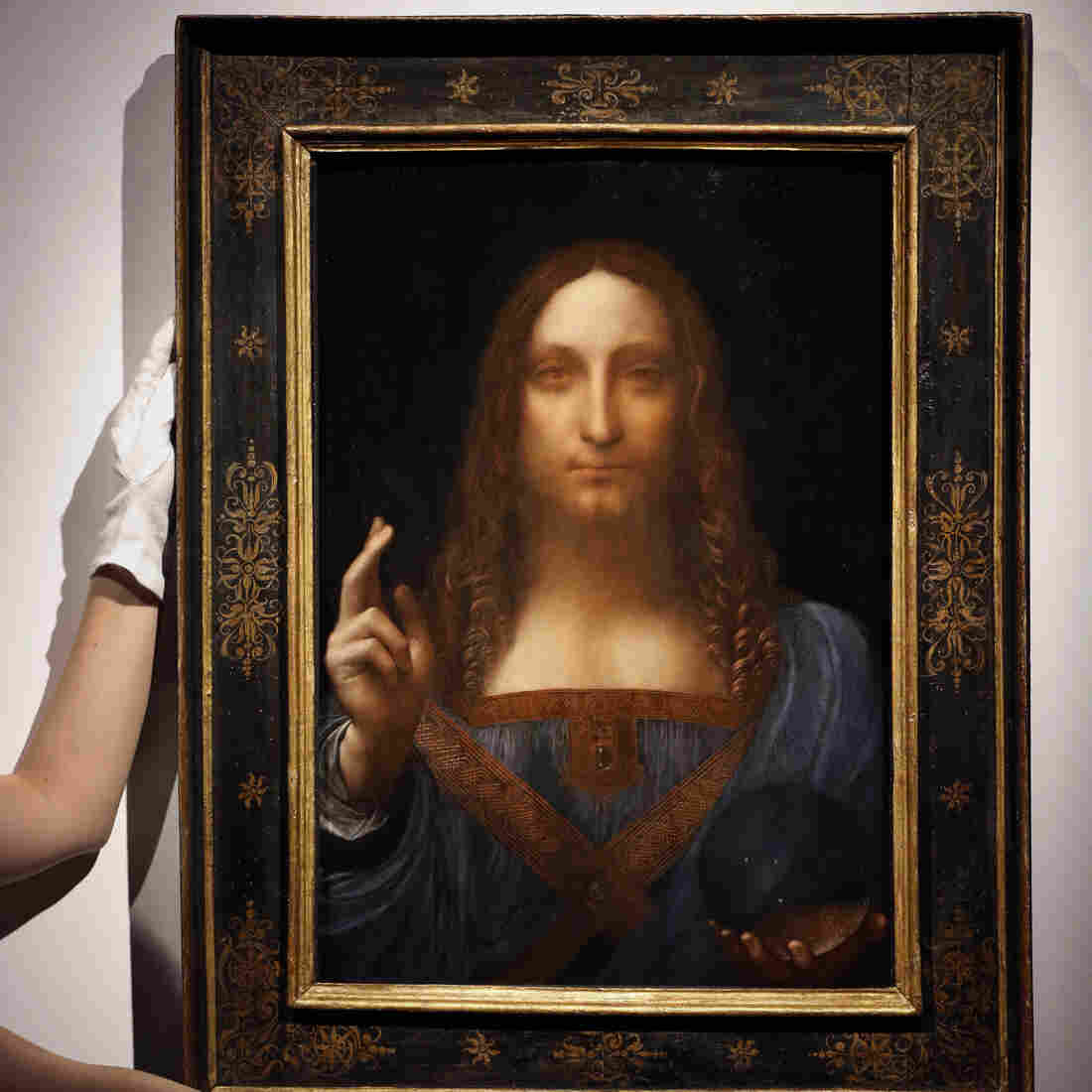 This is one ho-hum painting.
The last time it had changed ownership was in 2005, when a consortium of art dealers purchased it … for less than $10,000. What explains the Everest-sized leap in its value? Back in 2005 it was thought to have been painted by one of da Vinci's disciples, not by the master himself. It's the same painting, just as remarkable or unremarkable as it ever was. Nothing changed but its context.
Has anything like this happened with music? Offhand, I can't think of any examples.
There are likely disputes over music-related collectibles, such as electric guitars, which would go for a high price a few years ago, although the market had cooled considerably the last time I looked into it. The electric guitar on which the short lived Duane Allman was said to had played on "Layla" would likely have gone for a lot at the peak of the guitar bubble, but it would have fallen in price if it were proved that wasn't his guitar or that it wasn't used in the "Layla" session.
Classical music hoaxes do exist. From The Guardian:
Don't believe your ears: the best classical music hoaxes

Tom Service

Wed 12 Aug 2015 06.28

It's not just literature and visual art. Classical music has also been a happy hunting ground for hoaxers over the centuries. In a market that's less driven by cash than the art world, however, the hoaxers' motivations are a more complex combination of aesthetic game-playing, private jokes, a bit of good old-fashioned lampoonery and, sometimes, a more shadowy kind of compositional fakery.
Some of these were pretty good, composed by talented composers who rebelled against their own age's assumptions about what a contemporary composition was supposed to sound like. My impression, however, is that they don't get included in the canon once they've been discovered.
A couple of commenters point to "Albinoni's Adagio." Commenter Inertial asserts:
Famous "Albinoni's Adagio" was really written not by Tomaso Albinoni (1671 – 1751) but by Remo Giazotto (1910 – 1998). It's still as popular as ever. But it wouldn't become so popular if it wasn't attributed to Albinoni first.
It's hard to make much money off creating a new piece of music that you claim is from the era before current copyrights. Similarly, if I were to write a catchy song and claim John Lennon had given me the manuscript and a notarized letter entitling me to the intellectual property rights while were standing outside of the Dakota moments before he was shot, I'd be getting a certified letter from Yoko Ono's attorneys shortly.
In pop music, there are a lot of songs where somebody gets a partial songwriting credit for business reasons without having written the song: e.g., John Lennon didn't write any of the Lennon-McCartney song "Yesterday," although at one point Yoko Ono was getting royalties for it and Paul McCartney was not. Elvis Presley did not co-write "Don't Be Cruel," but the songwriter Otis Blackwell was okay with giving him a split of the royalties in return for Elvis recording it.
But it's hard to think of a pop record that was made into a hit via misattribution. I could imagine that, say, a recording with what sounds like a newly dead rock hero climbing the charts, the way "Me and Bobby McGee" was a giant hit in the wake of Janis Joplin's death, only to discover later it was by a studio musician. That would be easier with a famous instrumentalist than a famous singer. But I'm not aware of it happening. (Or maybe that just shows how deviously it has been done?)
Commenters point to the Milli Vanilli scandal in which a couple of half-black German guys became initially celebrated and given awards and money until it was revealed that an African-American trio had recorded their songs. I suspect there are a lot of cases in which pretty people are made into pop stars without making too much of their own music, but for some reason the whole world got really mad at Milli Vanilli.
In the world of writing, there have been a few famous hoaxes over the centuries, such as Ossian, Clifford Irving's autobiography of Howard Hughes, and the Hitler Diaries.
In general, there seem to be more hoaxes in markets where people want to pay money for relics (art, collectibles) rather than reproductions (music, literature).
Follow @steve_sailer