UPDATED - Are There Any Lessons to be Learned from the Oroville Dam Disaster?
Search Text
Case Sensitive
Exact Words
Include Comments
Up-Updates regarding Oroville, CA, northeast of Sacramento, where 160,000 people have been ordered to evacuate because America's tallest dam is having all sorts of problems. Here are tweets from the local newspaper editor:
That's good news.
That's in line with my top of the head calculations that they can lower the reservoir level one foot every maybe three hours by blasting 100,000 cubic feet per second down the damaged primary spillway. This appears to have stopped water overflowing over the concrete lip of the so-called emergency spillway, which is really just a concrete wall on top of a mountainside of dirt. When the reservoir level gets to 901 feet above sea level, water starts trickling over the 1,700-foot long concrete lip and down to the dirt.
This emergency outflow route had never been used in the 48 year history of Oroville dam. That was supposed to allow up to 250,000 cubic feet per second of outflow, but, not surprisingly, by the time they got to only about 12,500 feet pouring over the 1,700 foot long lip, they started worrying about the mountainside under the lip eroding away.
If the concrete lip of the emergency spillway gave way because the mountain it rests upon wasn't quite there anymore, then the top part of the reservoir (maybe the top 30 feet?) would rush down the mountainside into the Feather River, wipe out the town of Oroville, and do who knows what damage to Sacramento 68 miles downstream. (Sacramento is not currently being evacuated.)
So they increased outflow down the damaged main concrete spillway up from 55,000 cfs to 100,000 cfs. That relieved stress on the emergency spillway. But …
That's the trade-off.
Here's a pair before and after disaster photographs of the main spillway with a slider to compare them.
Here's the weather forecast, which is very good in the short run and very bad in the mid-run.
So they've got around 48 to 60 hours of dry weather to patch things up while they lower the reservoir.
And then another deluge.
If I'm reading this Weather Underground forecast correctly, Oroville is expecting 4.02 inches of rain in seven days beginning on Wednesday. That would be on top of the 34 inches of rain that have fallen in the area since last summer and filled the reservoir to the brim.
If they can continue to blast 100,000 cfs down the main spillway, and if that really lowers the lake four inches an hour, then they can lower the reservoir about 15 or 25 feet before it starts raining again.
Another questions is whether the upcoming precipitation will come down at higher altitudes in the reservoir's watershed as snow (good) or rain (bad).
The first hit of rain on Wednesday or Thursday is likely to be warm, which is bad because it could help melt lower lying snow. But the later precipitation in the ten day forecast is likely to be cold and lower the snow level, so that's good for getting through the next week or two.
Commenter James B. Shearer does the math on how fast they can drain the reservoir.
According to google the surface area is 25 square miles. There are 640 acres per square mile so 16000 acres. An acre foot is the amount of water required to cover an acre 1 foot deep. So to lower the level 1 foot you must remove 16000 acre feet of water. An acre is 43560 square feet so an acre foot is 43560 cubic feet. So 100000 cfs is about 2.3 acre feet per second. So you need about 7000 seconds or a bit under 2 hours to drop the level a foot. But that assumes no water is coming in.
Inflow into the reservoir had been running at 40,000 to 50,000 cubic feet per second for most of Sunday, or about half of the emergency 100,000 cfs they started sending down the main spillway around sunset.
But at 10pm inflow was suddenly down to 5,237 cfs. Perhaps they are impounding tributaries at upstream dams. Or, hopefully, all of last week's big rain is down out of the tributaries by now. Update: at 11 pm PST, inflow is back up to 33,762 cfs. Here's a graph of inflow by hour on Sunday
You can find a few dozen automatically updated Oroville Dam graphs here.
So it looks like the sharp dip in the late evening was only a temporary respite. However the overall inflow trend line is down due to dry weather.
I'm guessing that if it doesn't rain, that inflow number will decline down toward about 10,000 CFS, which was the average inflow during dry days in early February.
So, if they continued to blast the main spillway at 100k, they could have a net outflow of about 90,000 cfs, or about 11 feet of lake level per day, best case scenario.
But if they continue to blast water down the main spillway, will that erode the 770-foot tall dam itself? I don't know, but it would be worth worrying about.
And of course it's going to start raining again, maybe on Wednesday. And it will probably rain for about a week for a total of 4 inches.
Unfortunately, the last set of storms that came through in early February and dumped 6.5 inches of rain raised the reservoir level by over 50 feet:
About 750,000 acre feet or 20% of the capacity of the reservoir was added between February 5 and February 11.
Inflow peaked at a little over 150,000 cubic feet per second on February 9.
This massive inflow was due to about 6.5 inches of rain falling from February 2 through February 9. That added over 50 feet to the elevation of the lake surface
Weather Underground is predicting 4 inches of rain for Oroville for the week beginning this Wednesday, so that might add say, 30+ feet to the lake, assuming the same level of average outflow down the crippled main spillway. Which is a big if.
It sounds like it's going to be a very close run thing.
But here's a question: how do we know this incoming rain storm will be the last big rain big storm of Winter/Spring 2017?
Well, we don't.
Here's Weather Underground's historical average chart for Oroville, CA:
Heavy rains are normal up through the middle of March and then lighter rains into early May.
But, as the rains taper off in later spring, the snow melt in the Sierras speeds up.
Perhaps somebody ought to be wondering not just about the next 10 days but the next 100.
Perhaps there are some kinds of responses that might take a month to put into place, but could turn out to be very useful during, say, the Great Early April Warm Rainstorm of 2017 that suddenly melted the high altitude snowpack.
For example, the problem with both spillways is that they erode themselves. What if you could put in a pipeline or just a chute to pump water away from the vulnerable concrete structures and drop the surplus water away from their foundations and into a ravine below, say, the emergency spillway and then have gravity carry it down to the Feather River?
The problem is that you'd need something like 5,000 or 10,000 cubic feet per second of pumping capacity to make even a small dent in the problem.
Here's another crazy idea: At least three tunnels were dug while constructing the Oroville dam: two for diverting the Feather River waters and one for a railroad. The rail tunnel was visible during the recent drought due to the low level of the lake
The two water diversion tunnels were dug in the 1960s to allow the Feather River to continue flowing while the dam was being constructed. They were each 35 feet diameter and had a combined capacity of at last 157,000 cubic feet per second, which they reached during the 1964 flood.
That's a lot of cubic feet per second. Opening both would, theoretically, lower the lake about an incremental 18 feet per day, assuming the Feather River could carry that much water.
According to a UC Davis website:
Two diversion tunnels were constructed for diverting water around the construction area. Diversion #2 is now used as an outlet for the water being utilized by the underground power plant. The 35 foot diameter size of the tunnels was chosen to withstand the flows of previously recorded floods on the Feather River. After final completion of the dam in 1967, Diversion Tunnels #1 and #2 were plugged. They excavated a system of tunnels for the powerhouse, some of which connected to Diversion Tunnel #2.
Personally, I would not volunteer to put on one of those old fashioned deep sea diver suits and go down with a jackhammer to unseal Diversion Tunnel #1.
But maybe there is something that could be done with Diversion Tunnel #2 from inside the powerhouse? That's a potential 78,500 additional cubic feet per second, which could come in handy.
UPDATE: Evacuation ordered for Oroville, CA and other towns downstream of the immense Oroville dam along the Feather River. About 160,000 people need to leave.
KCRA in Sacramento is a good source of info. Here's KCRA helicopter video from just before dark on Sunday that shows the lay of the land better than anything else I've seen:
http://www.kcra.com/article/evacuation-orders-issued-for-low-levels-of-oroville/8735215
And here are older videos:
The evacuation routes are crowded but moving: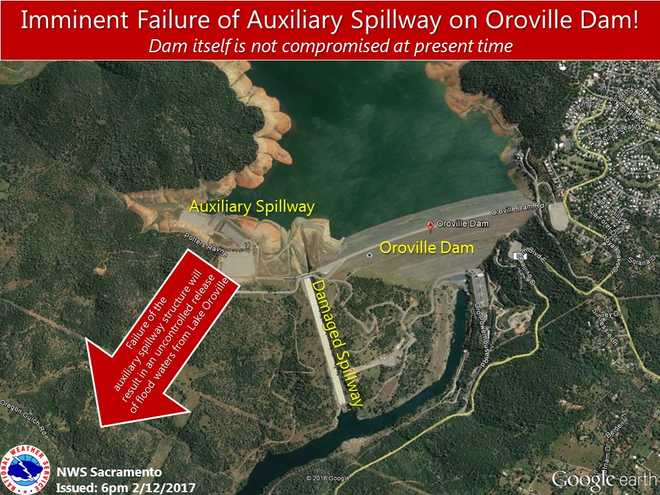 They're concerned that the Emergency (a.k.a., Auxiliary ) Spillway, which was never needed before Saturday, is eroding away. The Emergency Spillway is a 1,700 foot long concrete lip to the reservoir at a slightly lower elevation than the actual dam. It's like the edge of your bathtub, if your bathtub was basically a big canyon. Water is overflowing the reservoir over the concrete Emergency Spillway lip onto a dirt mountainside and plunging down to the Feather River. But the overflow could erode the concrete lip, causing it to collapse, allowing the top 30 feet (?) of the immense reservoir, the second biggest in California, to suddenly head downhill toward Oroville, Sacramento, and the San Francisco Bay.
From the Daily Mail:
Department of Water Resources spokesman Kevin Dossey tells the Sacramento Bee the emergency spillway was rated to handle 250,000 cubic feet per second, but it began to show weakness Sunday at a small fraction of that. Flows through the spillway peaked at 12,600 cubic feet per second at 1 a.m. Sunday and were down to 8,000 cubic feet per second by midday.
So they have started letting water blast down the primary spillway, a huge concrete ditch, which has been eroding away for several days, to try to lower the reservoir before rains come again around Thursday.
They just started sending 100,000 cubic feet per second (99,969 to be precise) down the failing concrete primary spillway, up from the 55,000 CFS they'd been allowing to try to lessen damages to the concrete.
You can follow the technical data here.
Presumably that will destroy the primary spillway faster, but whaddaya whaddaya? The good news is that inflows into the reservoir seem to be down to 42,369 cubic feet per second, so the reservoir level should fall.
It would be useful to know the arithmetic for translating net outflow of cubic feet per second into acre feet of water into change in elevation of the top of the reservoir.
Until it starts raining again, which now looks like Wednesday.
Of course, warm sunny days will also melt the snowpack near the snowline above the dam …
The 770 foot tall dam, itself, seems to be okay.
But a lot of things have gone wrong that weren't supposed to go wrong, so …
————–
Original Post on early Sunday morning: The good news is the drought in Northern California is over, which is also the bad news.
Oroville in the Gold Rush country of the lower Sierra Nevada northeast of Sacramento is the tallest dam in America and its reservoir is the second biggest of the giant California State Water Project.
Here's an old clip of what the Oroville Dam concrete spillway is supposed to look like, with water falling in an orderly fashion down the 770 foot elevation loss, only splashing up at the very bottom before falling into the Feather River:
And here's what it looks like after the latest rainstorm as the bottom half of the spillway has more or less exploded, with huge chunks of concrete flying through the air, with the water carving a new canyon down to bedrock.
The engineers had to reduce the flow over the spillway to keep the top half from eroding away itself and undermining the integrity of the reservoir. But this inability to shed water from the reservoir faster than it flowed in from the recent rainstorm meant that the reservoir overflowed for the first time in its 48 year history.
Starting Saturday morning, water started spilling over the "emergency spillway," which is actually just a 1,700 foot long lip of the lake that empties out onto a mountainside, kind of like the edge of your bathtub. The purpose of the Emergency Spillway is to drain the lake before it overflows the earthen dam itself, which could erode the dam on it's less hardened down river side, which could conceivably lead to various other bad things, ultimately resulting in, more or less, no more Sacramento.
So far, the Emergency Spillway seems to be doing its job, although you'll have new video Sunday morning to check whether this last-ditch system is working as planned hoped. But, best case scenario, the repair job on the Primary Spillway will likely cost nine figures.
This reminds me of SlateStarCodex's giant current post on Cost Disease: why do so many different things such as public works projects, health care, and education keep getting more expensive?
I don't know if there are any general lessons to be learned from Oroville.
But the body language of the public works engineers suggests some guilt and fear on their part. California was pretty broke a half decade ago, but the state could have afforded to fix the spillway recently if flaws in it had been discovered, but the staffers didn't seem to inspect it terribly closely.
They don't look like California's A Team.
I wonder if the quality of public works engineers has declined as we've moved from the construction to the maintenance era. Fifty to 100 years ago, building dams was a highly prestigious profession. Waterworks engineer William Mulholland was perhaps the leading citizen of California and his rise and fall inspired a famous movie,
But few dams have been built in this century and mostly we just want the ones that we already have not to collapse. That's not particularly attractive to top people looking for a career.
From the comments:
Dr. X says:
February 12, 2017 at 2:57 pm GMT • 100 Words(Edit-1764510)
One lesson is that governments build infrastructure that they believe will be permanent, and often do not build failure contingencies into the design or have a good Plan B if it fails.

Following the adage "two is one, and one is none" the designers of the dam probably should have built two identical concrete spillways, so they could alternate flow while repairing the one not in use. They sort of had a last-ditch backup plan with the "emergency" spillway, but that is not a spillway at all so much as an overflow, and they certainly can't use that for an extended period of time while repairing the concrete spillway.

Busby says:
February 12, 2017 at 6:30 pm GMT • 200 Words(Edit-1764680)
Scenario 1: Young newly credentialed engineer from Ivy League school forsakes high paying job at family construction firm for the opportunity to "make a contribution" out west like his admirable great grand father. First day on job discovers evidence of waste, fraud and abuse in dam maintenance program but gets no support from disinterested supervisor. Connects with old flame (Ivy drop out) female minority who has "mad computer skilz" now part of hacking collective devoted to rooting out government black programs. Aided by wise older guy, former Pulitzer Prize winning reporter for NYT (Morgan Freeman?). Team discovers family firm hiding behind six offshore holding companies provides substandard materials and pencil whips inspections and QA reports. Final act exposing family firm and the corrupt public officials takes place on the 7th green at Pebble Beach.

Scenario 2: Maintenance and Safety Managers spend years documenting deferred maintenance and requesting funds to ameliorate same. Politicians ignore same until disaster strikes. Since everyone is responsible, nobody is responsible.

Alterorbis says: • Website
February 12, 2017 at 8:09 pm GMT • 100 Words(Edit-1764787)
Whenever you look at sub Romano-British villas into the 5th to 6th centuries, you generally don't find evidence of marauding barbarians or pillage. What happens is that if the roof caved in, or tiles were blown off in the wind, no one had the knowledge to repair it and so it was abandoned. Similarly if windows were smashed, glaziers no longer existed, so you had to move out of that room. Great halls where noble families once ate were repurposed as grain stores, or sheds for swine. At some point, a fire breaks out and no one is left who has the expertise to rebuild the house, so it gets abandoned.

Decline is very banal.

SF says:
February 12, 2017 at 9:18 pm GMT • 100 Words(Edit-1764855)
From the close up photos, it looks like there was a softer layer of brown soil upslope from a layer of hard gray and relatively impervious bedrock. My best guess is the ground water accumulated above the bedrock to the point that the soil was semi-liquefied, and eroded from underneath the spillway. This created a void where the spillway was not supported from below, leading to the failure. If this was the case (and I would give it a 51% probability) then it is more a problem with the original design and engineering in the 1960′s.

Steve Sailer says: • Website
February 12, 2017 at 10:41 pm GMT(Edit-1764932)@SF
That's probably one reason it takes so long to build stuff these days — we know more about what could go wrong so we try to design in safety features for a host of contingencies.
Here's a blog post I did in 2014 about dams featured in the 1970s movies Chinatown and Earthquake:
Why Are Infrastructure Projects So Slow These Days?
STEVE SAILER • MARCH 25, 2014 • 300 WORDS • 58 COMMENTS

One of the odder aspects of modern life is that it takes forever to build infrastructure. For example, the 2.7 mile paved walking path around the beautiful Lake Hollywood reservoir (which is under the famous Hollywood Sign), was washed out in places during the 2005 rains. The loop finally reopened in 2013, over eight years later.

In contrast, the sizable Mulholland Dam that created the Hollywood Reservoir in the 1920s was built in … 1.5 years (according to the bronze plaque on the dam) … it took at least five years less time to build the dam from scratch in the 1920s than to fix the road around the reservoir in the 2000s and 2010s.

On the other hand, as I was reading up on this dam, I saw that William Mulholland, Los Angeles's titanic chief water engineer, followed up his Hollywood dam with his nearly identical St. Francis dam out in the northern exurbs, which also built in only a couple of years.

Unfortunately, the St. Francis dam collapsed in 1928, killing approximately 600 people. (In Chinatown, the depressed water engineer Hollis Mulwray is vaguely based on Mulholland post-St. Francis dam disaster.)

So, in the 1930s, Los Angeles went back and pushed a huge amount of dirt in front of the Hollywood version of the dam to keep from losing Hollywood. I hadn't realized how tall the dam is under all the dirt until seeing this photo of the safety project from a 1934 Popular Science:

So, I don't know. Maybe we have good reasons for doing things more slowly now?
Follow @steve_sailer