And Then They Came for Matt Taibbi and Mark Ames
Search Text
Case Sensitive
Exact Words
Include Comments
From the Washington Post:
The two expat bros who terrorized women correspondents in Moscow

Matt Taibbi and Mark Ames trafficked in hideous stereotypes and body-shaming.

By Kathy Lally December 15 at 4:42 PM
Is Washington Post reporter Kathy Lally related to Lally Weymouth and her Washington Post-owning mother Katharine Graham (plus, Lally Weymouth is sister in law of Talking Heads bassist Tina Weymouth?) Probably not, but the Post has always had a whole bunch of of people with seemingly interlocking names.
There's more than one way to harass women. A raft of men in recent weeks have paid for accusations of sexual harassment with their companies, their jobs, their plum political posts. But one point has been overlooked in the scandals: Men can be belittling, cruel and deeply damaging without demanding sex. (Try sloughing off heaps of contempt with your self-esteem intact.)
Some men hurt your feelings by wanting sex from you. Other men hurt your feelings by not wanting sex from you. They must all pay.
We have no consensus — and hardly any discussion — about how we should treat behaviors that are misogynist and bullying but fall short of breaking the law.
Hanging is too good for 'em for what they said about me being "matronly." There can be NO statute of limitations for body-shamers.
The point is not whether or not these men broke the law. Who cares about legal mumbo-jumbo technicalities? The point is that they are men who hurt the self-esteem of women, or, to be precise, one woman, me, Kathy Lally, who, let me make clear, is n0t "matronly."
Twenty years ago, when I was a Moscow correspondent for the Baltimore Sun, two Americans named Matt Taibbi and Mark Ames ran an English-language tabloid in the Russian capital called the eXile. They portrayed themselves as swashbuckling parodists, unbound by the conventions of mainstream journalism, exposing Westerners who were cynically profiting from the chaos of post-Soviet Russia.
In contrast to the Serious Media who did such a fabulous job of covering what was really going on in Yeltsin's Democratizing Russia. For most of the 1990s I heard from the NYT and NPR about what superb advice Russia was getting from Larry Summers, Andrei Shleiffer, Jeffrey Sachs, and Stanley Fischer. But in 2017, for some inexplicable reason, Russians seem to resent what happened to them during their decade when Americans were giving them economic advice and running their political campaigns for them.
In contrast, while little The Exile was full of self-evident BS it was making up out of whole cloth, it did get across one message: don't trust the American Establishment's PR about how high-minded and successful their interference in Russia is.
A better description is this: The eXile was juvenile, stunt-obsessed and pornographic, titillating for high school boys.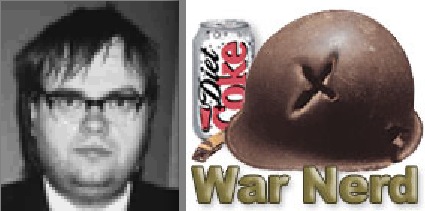 And it's almost as if The Exile's War Nerd wasn't actually a data entry clerk living in the suburbs of Fresno, CA.
It is back in the news because Taibbi just wrote a new book, and interviewers are asking him why he and Ames acted so boorishly back then. The eXile's distinguishing feature, more than anything else, was its blinding sexism — which often targeted me.
It's about POWER: Who has more power, a poor woman working for the Washington Post or a MAN who used to work for The Exile? Obviously, the MAN.
… It ridiculed one female reporter as a "star spinster columnist" and mentioned women's "anger lines" and fat ankles. The paper even had a cartoon called the Fat Ankle News, about a woman who tweezes her nose hairs and gorges on doughnuts while editing a story.
… And all I ever said about the eXile publicly was in that email to Johnson. But after that, Ames and Taibbi seemed certain I wanted to shut the paper down, censor them and oppose free speech generally.
Which I am doing in 2017: Vengeance is a dish best served cold!
… In the eXile, he described "a full frontal attack by, of all things, a matronly middle-aged American print journalist." …
"Matronly"?!?!?!?
Of course I was angry and upset. I worried about my daughters; the older one was in high school. She had to watch her mother's character assassination unfold — witnessed by her classmates.
What high school girl wants to think of her mother as "matronly?" Everybody knows that high school girls want the world to think of their mothers as "hot."
I didn't think about Taibbi and Ames for years; my self-esteem remained intact and my life moved along. Then, just as more and more men were being drummed out of public life for long-ago behavior, Taibbi landed in the news, bringing Ames along with him. Taibbi recently published a book about the death of Eric Garner, "I Can't Breathe," and in an interview about it, an NPR host asked him about the eXile years and a passage, written by Ames, in their memoir that described routine sexual harassment of women.

Taibbi apologized on the program and later on Facebook. "The behavior [Ames] describes is reprehensible. It is also, like a lot of things in the eXile, fictional and not true." …

At the time, silence in the face of its bullying seemed the best way of dealing with the eXile. Criticizing it only brought on attack. But now women are regaining their voices, and I've found myself regaining mine.

… That reckoning has been too long coming. But you don't have to grope a woman or force a kiss on her to humiliate her, to make her doubt herself, to silence and diminish her. Bullying, treating women with contempt, freezing them out of the lunches and meetings that build networks and authority: All are damaging, insidious and difficult to root out. That will take time — and more women who call men out. That's why I'm saying #MeToo.
It's not just Sailer's First Law of Female Journalism, it's Sailer's Nth Law of Female Journalism.
Follow @steve_sailer