6'7" Aaron Judge vs. 5'6" Jose Altuve
With a 7th and deciding game of the American League baseball championship series coming up this Saturday evening between the Houston Astros, led by 5′-6″ Jose Altuve, and the New York Yankees, led by 6′-7″ Aaron Judge, I thought it would be worth thinking about the old sportswriter's theory that it's better for a hitter to be short than tall.
David Halberstam, author of Vietnam War history The Best and the Brightest, explained in his 1994 baseball book October 1964 why he thought the best players of the late 1950s-early 1960s, Mickey Mantle and Willie Mays, were under six feet tall but also quite wide. Speaking of the young Mantle, Halberstam writes:
… but others thought he was closer to 5'9″. It was the width of the body that stunned such veteran baseball men as [Tommy] Henrich. … Normally, to be that strong, to hit the ball that hard, a man had to be bigger than normal; one envisioned an immense man … perhaps 6'6″ for that kind of power. But in baseball, as a man's height increased, he was also made vulnerable, for the size of his strike zone expanded as well, giving pitchers too big a target. (The first time Whitey Ford looked at 6'7″ Dodger outfielder Frank Howard, all he could think of was what a wonderful strike zone Howard presented.)
Frank Howard, 6'7″ and 255 pounds, was kind of a Project that baseball didn't deal well with until he was in his early 30s when his new manager on the Washington Senators, the great hitting technician Ted Williams, taught him how to exploit his potential. Jim Bouton's bestseller Ball Four has a section on how Williams took Howard under his wing. Bouton was biased in favor of high IQ individualist jerks like Williams who didn't last long as a manager in the conformist culture of baseball.
(Aaron Judge, a 25 year old rookie, was kind of a Project too. His three minor league seasons weren't exceptional. Presumably, he didn't get all the moving parts of his huge frame working together until this year.)
Interestingly, Williams, who is listed at 6'3″ and 205 pounds, was the opposite of Halberstam's theory that being short and wide was the ideal for a hitter. Williams was known as the Splendid Splinter because he wasn't terribly wide relative to his height. Yet he ranks as the highest on-base percentage player of all time.
Among the top twelve, ten were at least 5′-11″ and the three who were 5″11″ were in early baseball when that was well above the national average: Rogers Hornsby, Tris Speaker, and Bill Joyce. The two of the top 12 who were clearly shorter than the national average were 19th Century players: future genius manager John McGraw (5'7″) and Sliding Billy Hamilton (5'6″).
Strikingly, the current Cincinnati Reds feature a base stealer also named Billy Hamilton who is a similar combination of speed and lack of power. The new Billy Hamilton is 6'0″, but I suspect the main reason he has been less effective at getting on base than the previous Billy Hamilton is simply because pitchers are now able to throw strikes more reliably than they were 100 years ago.
Halberstam argued that it was not just the size of the strike zone that was a problem for tall hitters:
In baseball it was too easy for a smart pitcher to come inside and tie that kind of hitter up, and keep him from extending his arms. But with Mantle, Henrich thought, it was as if God had taken the ideal body necessary for a great hitter, and then simply made it wider and stronger, extending the power package, but not the strike zone.
I suspect the 1970s Dodgers were built along the same theory. I can recall watching the stars — Garvey, Cey, Lopes, Reggie Smith, etc. — jogging in the outfield together before a game and thinking that they were remarkably wide for their height. Ron Cey was noteworthy for his comically short arms and legs (he was called "The Penguin") not preventing him from being a highly effective baseball player.
So, I was prepared to believe Halberstam's theory when I read it in the late 1990s.
On the other hand, is it really that disadvantageous to be tall in 21st Century baseball?
In Little League baseball, it's common to put a really short hitter up as leadoff hitter to draw walks because little boy pitchers have a hard time hitting his shorter strike zone. But perhaps major league pitchers don't have that much difficulty?
Giant Aaron Judge at 79 inches tall is 20% taller than little Jose Altuve. Perhaps that's not that big of a deal to big league pitchers?
Judge led the American league by earning 127 bases on balls this season, while little Jose Altuve walked only 58 times. Probably more relevant is that Judge is an extreme example of the modern sabermetrics-influenced "three true outcomes" philosophy of homer-walk-strikeout while Altuve is an old-fashioned hitter who comes up to bat looking to hit the ball square and hard. Judge hit 52 homers and struck out 208 times while Altuve hit 24 homers and struck out 84 times.
Altuve has led the American League in hits for four straight seasons, with at least 200 hits in each, batting .334 over that stretch. He hits a lot of homers for a man of his size, because he is an exceptional all-around baseball player, but he's more looking for a base hit than a homer.
Similarly, the current player who most resembles Mickey Mantle statistically is Mike Trout of the Angels, who is listed at 6'2″ and 235 pounds. The contemporary player who likely draws the most walks is Joey Votto, who is listed at 6′-2″ and 220.
In the past, fairly short guys often drew lots of walks without exceptional power, such as Johnny Pesky, Eddie Yost, Richie Ashburn, Eddie Collins, Brett Butler, and so forth. (Obviously, it's best to be both not that tall and quite powerful, like all-time best leadoff man Ricky Henderson, who hit 297 homers, or like Joe Morgan who dominated the mid-1970s.)
But these days, most of the guys who get a lot of walks are tall, large power hitters whom pitchers are afraid to challenge by throwing it down the middle. In recent years, the only short and non-power hitting league leader in drawing walks was 5′-8″ Chone Figgins.
So, it appears likely that pitchers have gotten more absolutely accurate over the decades, all else being equal.
Who deserves to the A.L. MVP: Altuve or Judge? I'd say Altuve, but both would be deserving winners. The two players are extremely close according to Baseball Reference's Wins Above Replacement metric with Altuve contributing 8.3 wins more than a waiver-quality player and Judge 8.1.
Altuve's Astros won 101 games while Judge's Yankees won 91.
The Yankees appeared to be under-achievers this year relative to their talent level. Judge was a poor clutch hitter this year. In 100 plate appearances when the game was "late and close" he hit only 3 homers. While in 112 plate appearances when the Yankees were ahead by more than four runs, he hit 17 homers.
Sabermetricians emphasize that clutch hitting isn't a very good predictive statistic. One year's poor clutch statistics is probably just random noise and won't much predict that Judge will do badly in clutch situations next years.
The theory that some hitters are true clutch hitters would suggest that, conversely, they goof off in less clutch situations. But my impression is that most big league ballplayers can be counted upon to try hard whenever they come up to bat, which is for only about 10 or 15 minutes per game. They spend about an hour or hour and a half per per week at bat, which shouldn't be all that exhausting to a young man in his prime. If you can't bring yourself to focus hard for four or five at-bats per game, you probably won't make the MLB.
So, Judge's poor clutch hitting relative to his awesome hitting this year in blowouts is probably just a fluke. Nonetheless, there's a philosophical point that the MVP award isn't given as a forecast of who will be most valuable next year, it is given as a reward for who was most valuable this year. So the fact that Judge wasn't quite as valuable to the Yankees winning games as you would normally expect from his topline statistics such as 52 homers and 127 walks should count against him in the MVP balloting.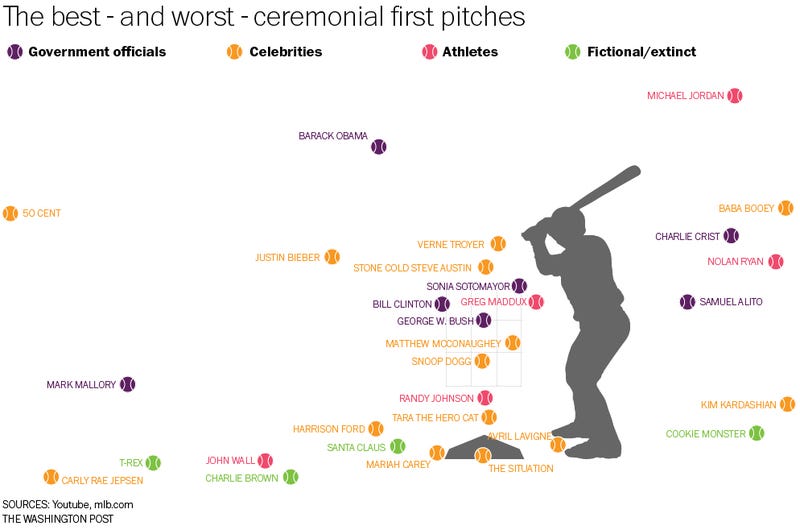 In other baseball wonkery, here is a graph of ceremonial first pitches by celebrities. The most accurate out of the 30 watched on Youtube was the famous post-9/11 first pitch at the 2001 World Series in Yankee Stadium by President George W. Bush, who had pitched one year at Yale. He lobbed it dead down the middle.
Singer Mariah Carey did not distinguish herself:
Former double AA minor leaguer Michael Jordan and baseball Hall of Famer Nolan Ryan both threw several feet behind where a righthanded batter would have stood:
Follow @steve_sailer