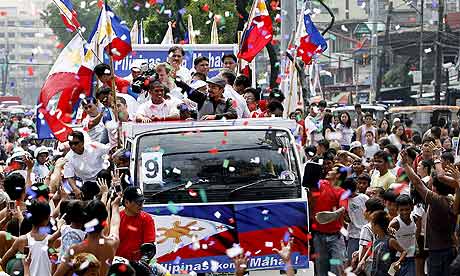 In late-breaking news, millions of Filipinos thronged the streets of Manila to celebrate the announcement of a peace treaty between boxers Manny Pacquiao and Floyd Mayweather Jr.
This surprise development averted a feared $300 million bout in Las Vegas next May.
With the help of shuttle diplomacy by former President Bill Clinton, the treaty of perpetual nonviolence was negotiated between representatives of the Pacquiao camp and the Mayweather camp.
"Peace in the ring is at hand," proclaimed the Filipino boxer / politician's personal delegate at the talks, Senator Harry "Punchy" Reid (D-NV).
"Why would anyone want to see these two fine gentlemen beat each other senseless, probably causing permanent memory damage, when instead we could just … we could just … dammit, Xochitl, you're holding my cue card upside down."
"Like, hey, this is like, you know," observed Mayweather's chief diplomatic adviser, Canadian singing sensation Justin Bieber.
Details remain to be finalized, according to Bieber. "We still get paid, right? I mean, half of $300 million is, like, a lot."
Bieber mused, "For $300 million, I'd let you punch me in the face. No … I won't take an IOU. … Ouch! Stop it!"
Another Mayweather confidant, Donald Sterling, noted, "Floyd promised to buy the Clippers from me for $5 billion — which, allow me to point out, is 2.5 times as much as my useless wife got — so all I know is he'd better fight somebody soon."
But for now, the threat of boxing in Las Vegas seems to have been sidestepped. Sands Casino owner Sheldon Adelson declared that everybody in the gambling mecca had been praying for peace and now their dreams had come true.